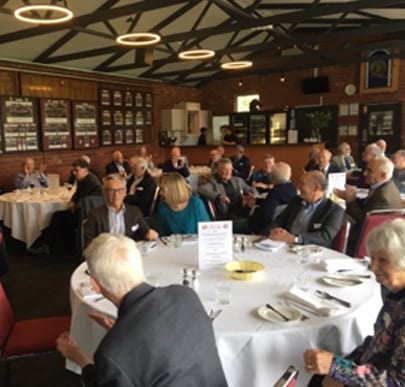 A milestone reached; 60years on for the 1959 MHS Exit year students. Some forty Old Boys and five wives attended their reunion luncheon in the Unicorn Club on 16th October, 2019.
M/c Laurie Pole welcomed the guests and Principal Jeremy Ludowyke gave an entertaining talk highlighting some events contrasting the way the school functioned in 1959 with the way it operates today and what the future may hold. 2020 MHS School Captain elect and Bluey Truscott Scholar, Shayan Soroush, followed with an impressive overview from the student perspective. MHSOBA Vice President, Warren Fall, provided insights into the close relationship between the Old Boys and the school and the importance of MHSOBA in upholding the values of MHS through financial assistance, mentoring and role modelling for present day students.
The attendees were asked to record their memories and reminiscences to form part of a 'Visitor's Book' for the reunion. They were provided with a printed A4 sheet on which were two questions; i) My most enduring memories of MHS, ii) What have I experienced in my life until now.
A distillation of the responses received is collated here:
My most enduring memories of MHS:
Inspirational teachers; friendships; tradition/history; recognition of achievement
Monday school assembly; House Choral contests; Speech Night
Sport, orchestra, band, clubs and cadets; variety of extra-curricular activities
School plays ("Arsenic and Old Lace" 1958, "My Three Angels" 1959)
What have I experienced in my life until now (as a result of my time at MHS):
Career satisfaction with broad experiences
An enquiring mind as a result of teaching that challenged
A firm basis for continuous learning
The ability to change and adapt
The desire to make a difference
Pride in achievement and the importance of 'Giving Back'
Subtly we were taught to 'Honour the Work'.
The reunion was a very happy occasion, a day for renewal of friendships and catching up with life-stories amongst old class mates. The room was a buzz with conversation from first arrivals to the finish of lunch and on to the 'Castle on the Hill' for a walk-through tour of the school.
Our thanks to the organising committee; Laurie Pole, Trevor Matthews, Jon Winstanley and Carl Dillon. Thanks also to MHSOBA events manager, Jo Malley and her staff, for planning the day and arranging the catering that made the luncheon such a success.