STUDENT VOCATIONAL SEMINAR SERIES 2023
Our Vocational Seminars provide an invaluable opportunity for current students to learn more about a range of professions, study and industry trends.  Presented by accomplished Old Boys, these FREE lunchtime sessions are open to all students.  Registrations are essential.
Venue:     The Unicorn Club, MHSOBA Pavilion (far side of MHS oval)
Time:        All sessions start at 1:15pm – please be punctual, bring your lunch!
Register:  Register via the hyperlinks below – you may attend more than one event
Medicine – Tuesday 10 October
Co-presented by Rafael Cheung MHS 2019 and Okan Ozcoban MHS 2019
Rafael is currently studying his fourth year of undergraduate Bachelor of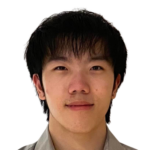 Medical Science/Doctor of Medicine (MD) at Monash University. Nearing the end of his tertiary study, Rafael has undergone clinical placements across many specialties, developing an understanding of how they operate. His career aspirations past medical school remain open for debate and this has led him to participate in opportunities such as the Eric Glasgow Research program for anatomical prosection. Outside of medicine, Rafael is interested in sports, graduating from MHS in 2019 as captain of badminton. Currently, he manages his community volleyball team.
Okan graduated from MHS in 2019 and is currently studying in his fourth year of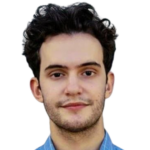 undergraduate Bachelor of Medical Science/Doctor of Medicine (MD) at Monash University. He has had clinical placement experience in various surgical and medical departments across the Eastern and Monash hospital sites. He has a particular interest in critical care and emergency medicine. Outside of studying and placement, Okan plays for a skilled futsal team. He looks forward to revealing his perspective on medical studies and the profession.
---
Performing Arts – Wednesday 11 October
Co-presented by industry giants Gavan Swift MHS 1990 and Troy Sussman MHS 1987

Gavan graduated from Australia's National Institute of Dramatic Art in 1994. His musical lighting designs include Mamma Mia!, Heathers the Musical, Mack & Mabel, The Mikado, The Pirates Of Penzance, Hot Shoe Shuffle, Little Shop of Horrors, Sweet Charity, Fiddler on the Roof, Jolson, Buddy, Oh What A Night, Footloose, Hair, Xanadu, Chess, and Saturday Night Fever both in Australia and on London's West End. Gavan was the lighting designer for Moby Dick at the San Francisco Opera, Washington National Opera, LA Opera and Dallas Opera.
He has designed the lighting for The Production Company's Anything Goes, Sugar (Some Like It Hot), The Music Man, Hair, Mack & Mabel, The Pirates of Penzance, Thoroughly Modern Millie and their inaugural production of Mame. For the State Theatre Company of South Australia his designs include Three Sisters (co-set designer), King Lear and Hamlet. For Bell Shakespeare; The Winter's Tale, Pericles and A Midsummer Night's Dream. He also designed the lighting for the award-winning Victorian Opera production of Salome. Gavan has also designed lighting for productions at the Sydney Theatre Company, Melbourne Theatre Company, The Ensemble Theatre, and Opera Australia. Gavan was the Associate Lighting Designer for the Australian productions of Harry Potter and the Cursed Child, The Book of Mormon, Aladdin, Cabaret, The Full Monty, Chicago, High School Musical, A Chorus Line, South Pacific, Wicked, Frozen, An American In Paris, 9 to 5, Hairspray, Moulin Rouge and The Lion King; as well as the London production of A Chorus Line, the Japanese production of Beauty and the Beast, plus the Mexican production of Wicked.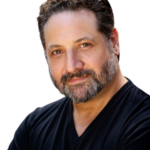 Troy – actor, singer, creative director.  He has worked for over 30 years as a professional performer and in those years he has been one of the most prolific artists in the industry, working throughout Australasia and the West End. Theatre credits include Les Miserables, Miss Saigon, Guys and Dolls, We Will Rock You, Mary Poppins, to name a few. 
Most recently he appeared as Babkak in Disney's Aladdin and as Curveball in the online hit Who's Your Baghdaddy. Troy was in the original Australian production of The Phantom of the Opera.
---
Engineering – Wednesday 18 October
Presented by Mark Bainbridge MHS 1988

---
Law – Thursday 19 October
Presented by Andrew Chen MHS 2007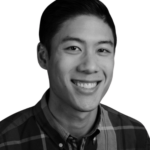 Andrew graduated MHS in 2007 before completing a double-degree of Commerce and Laws at Monash University. Having been fortunate enough to do five summer clerkships across a variety of top tier and boutique law firms, Andrew joined Herbert Smith Freehills in 2013 where he practised Finance law for 6 years. In 2019, he made the jump from private practice to in-house legal at REA Group where he now has a broad remit across various areas of law including Privacy, Consumer, Competition, Employment and Procurement.
---
Commerce & Finance – NEW DATE – Thursday 9 November
Presented by Kenny Cheng MHS 2000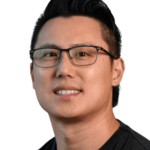 Kenny is a finance professional with 19 years' expertise in global and Australian Corporates, across Digital, Logistics, Consumer and Energy industries.
As the Investment Portfolio Manager at REA Group – which operates Australia's leading residential and commercial property  websites realestate.com.au and realcommercial.com.au – he focuses on planning and prioritising whole-of-business investment decisions to maximise the return on REA's product portfolio.  Prior to REA, he held valuation and commercial finance roles at Australia Post, Victoria Power Networks and KPMG, engaging with senior stakeholders from Government, medium and large businesses. Concurrent with his professional work is his advocacy for LGBTQIA+ inclusion and cultural diversity in the workplace.
---
CADET REUNION
A Cadet Reunion is to be held on Thursday 12 October in The Unicorn Club from 1800h.  If you're an ex-Army or Airforce Cadet or an ex-Tattam-Wallis Ceremonial Band member, come along and bring your mates.  As part of this Reunion we will also  celebrate the life of former MHS teacher, Major and Officer in Charge of Cadets, John Grigsby.
Tickets are $38pp and include refreshments.  Drinks at bar prices.  Registrations are essential for catering and staffing purposes – buy your ticket here.
---
REUNIONS 2023
Most Reunions for this year have now been delivered, from the 10-Year celebration to the Golden Years Luncheon.  Thanks to all Old Boys (and their partners) who were able to attend and make these events a success.
We are disappointed to advise the 50-Year Reunion Dinner for the Class of 1973 on Friday 27 October is not proceeding.  As with all Reunions, a minimum of 40 guests is required.  Registrations are very low, and we are mindful some Old Boys are making travel arrangements to attend.  We thank those Old Boys who registered for their support and understanding.  Your ticket price will be refunded in full.
Return to the Castle
Registrations Closed
Class of 2022
Friday 17 March
20-Year Reunion
Tickets Closed
Class of 2003
Wed 19 July
10-Year Reunion
Tickets Closed
Class of 2013
Friday 21 July
5-Year Reunion
Cancelled – low registrations
Classes of 2017 & 2018
Wednesday 26 July
30-Year Reunion
Tickets Closed
Class of 1993
Friday 28 July
50-Year Reunion Dinner
Cancelled – low registrations
Class of 1973
Friday 27 October
40-Year  Reunion Dinner
Tickets Closed
Class of 1983
Friday 4 August
Golden Years Luncheon
Tickets Closed
Old Boys who left MHS over 50 years ago
Friday 11 August
1-Year Reunion
Cancelled – low registrations
Classes of 2021 & 2022
Friday 24 November
35-Year Reunion
Tickets Closed
Class of 1988
Friday 25 August
Preceded by a tour of MHS and held in The Unicorn Club, Reunion details will be advised via email, our website, newsletter and social media channels.  Keep an eye on your cohort's dedicated MHSOBA Facebook page too.
Please note a minimum of 40 Old Boys is required to make each Reunion possible.
Honour The Work

Welcome to the MHSOBA Annual Dinner 2023
Hosted by MHSOBA President Colin Axup (MHS 1984), our distinguished guest speaker is Jason Edwards, award-winning National Geographic Photographer (MHS 1986).
Gather your mates together for an evening of fellowship, laughter, networking and reflection.  Partners are warmly invited to join the occasion.  Bookings are essential, with RSVPs required by midday Thursday 25 May.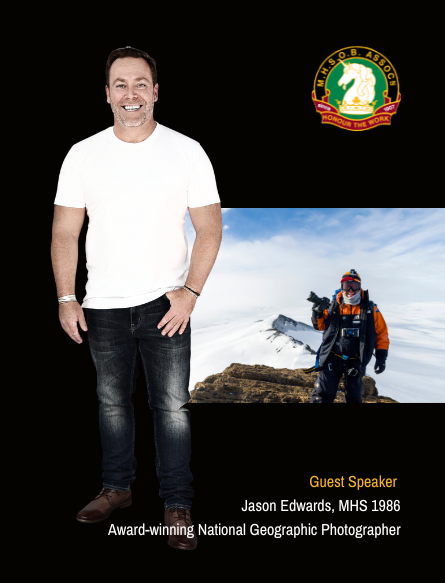 Date
Wednesday 31 May 2023
Venue
The Kooyong Room
Kooyong Lawn Tennis Club
489 Glenferrie Road, Kooyong
Time
7:00pm to 11:00pm
Dress
Black Tie or Lounge Suit
The Evening
Tickets include a 3-course dinner and beverages.
Hear from our distinguished and dynamic guest
speaker Jason Edwards, MHS 1986. Meet MHS Principal
Dr. Anthony Mordini and members of the MHSOBA Committee.  Get competitive with our Silent Auction, Live Auction and Raffle!
Ticket Prices inc. GST
MHSOBA Member – $155
MHSOBA Student Member – $140
Table of 8 MHSOBA Members – $1,178
Non-member – $170
Non-member Student – $150
Table of 8 Non-members – $1,292
To purchase tickets for one to seven guests, click here
To purchase tickets for a table of 8 guests, click here
An online processing fee applies to each ticket purchased.
Parking & Public Transport
Free parking is available adjacent to the venue next to Kooyong Stadium
The Glen Waverley line train stops at Kooyong Station next to the venue
Route 16 tram on Glenferrie Road stops directly outside the venue
As we don't have everyone's current contact details, please share this event with your network.
Honour The Work