REUNIONS 2022
After two years of no events, we are delighted to share our Reunion calendar for 2022.
There will be a mix of "Reunions Revisited" for milestone events cancelled in 2020 and 2021, and this year's key Reunions.
CORRECTION – our email of Friday 22 April noted the 40-Year Reunion and Golden Years Luncheon on dates in September.  These events are scheduled for Friday 21 October and Friday 28 October respectively.  Our apologies for the error.
CLASS of 2017 – Event Cancelled
Regrettably, the Class of 2017 5 Year Reunion on Wednesday 1 June has been cancelled due to low registrations.  Old Boys who have purchased tickets will be refunded in full.  We look forward to welcoming these Old Boys to future Reunions.
Preceded by a tour of MHS and held in The Unicorn Club, mark your diaries for:
Class of 2017 – Cancelled 
5-Year Reunion
Wednesday 1 June
Class of 2012 – Ticket Sales Closed
10-Year Reunion
Friday 3 June
Class of 2002 – Ticket Sales Closed
20-Year Reunion
Wednesday 8 June
Class of 1992 – Ticket Sales Closed
30-Year Reunion
Friday 17 June
Class of 2001 – Ticket Sales Closed
20-Year Reunion Revisited
Wednesday 7 September
Class of 2010 – Ticket Sales Closed
10-Year Reunion Revisited
Friday 9 September
Classes of 1970, 1971 & 1972 –
Ticket Sales Closed
50-Year Reunion Dinner
Wednesday 14 September
Classes of 1980, 1981 & 1982 – Ticket Sales Closed
40-Year Reunion Dinner
Friday 21 October
Golden Years Luncheon – Ticket Sales Closed
For all Old Boys who left MHS over 50 years ago
Friday 28 October
Classes of 2019 & 2020 – Ticket Sales Closed
1-Year Reunion
Friday 18 November
In consultation with Old Boys, we have combined cohorts for 40 and 50-Year Reunions this year.
We will provide Reunion details via personal EDM (Electronic Direct Mail), our website and social media channels.  Keep an eye on your cohort's dedicated MHSOBA Facebook page too.
If your Reunion was cancelled in 2020 or 2021 and is not on this year's calendar, we invite you purchase a table at the Annual Dinner with a group of mates.  This is a great way to celebrate and stay connected.
We look forward to welcoming you back to MHS and to The Unicorn Club.
Honour The Work

Welcome to the MHSOBA Annual Dinner 2022
Hosted by MHSOBA President Colin Axup (MHS 1984), our distinguished guest speaker is Mr Ian Macfarlane AC, economist, author and former Governor of the Reserve Bank of Australia (MHS 1963).
Gather your mates together for a convivial evening of fellowship, laughter, networking and reflection.  Partners are warmly invited to join the celebration.  Bookings are essential – please RSVP by 5:00pm Monday 22 August.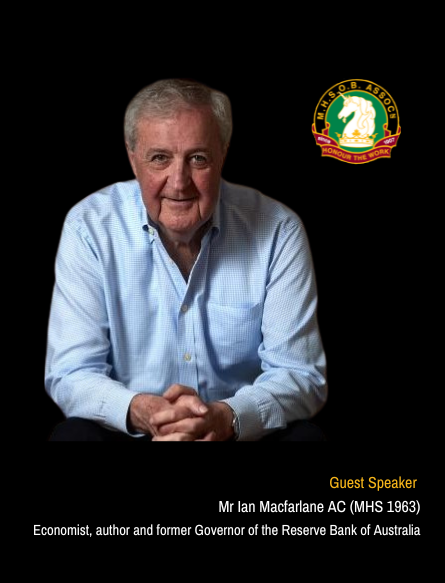 Date
Wednesday 31 August 2022
Venue
The Kooyong Room
Kooyong Lawn Tennis Club
489 Glenferrie Road, Kooyong
Time
7:00pm to 11:00pm
Dress
Black Tie or Lounge Suit
The Evening
Tickets include a 3-course dinner and beverages.
Hear from our distinguished guest speaker Mr Ian Macfarlane AC (MHS 1963).
Meet MHS Principal Dr. Anthony Mordini and the MHSOBA Committee. Get
competitive with our Silent Auction and Raffle.
Ticket Prices inc. GST
MHSOBA Member – $155
MHSOBA Student Member – $140
Table of 8 MHSOBA Members – $1,178
Non-member – $170
Non-member Student – $150
Table of 8 Non-members – $1,292
To purchase tickets for one to seven guests, CLICK HERE

To purchase a Table of 8 guests, CLICK HERE
An online processing fee applies to each ticket purchased.
Parking & Public Transport
Free parking is available adjacent to the venue next to Kooyong Stadium
The Glen Waverley line train stops at Kooyong Station next to the venue
Route 16 tram on Glenferrie Road stops directly outside the venue
As we don't have everyone's current contact details, please share this event with your network.
Honour The Work