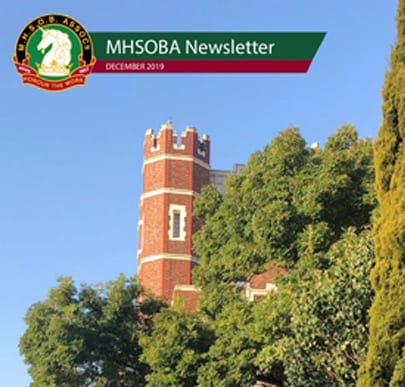 In this our last Newsletter for 2019, we reflect proudly on the year that has passed and look with enthusiasm to the year to come.
This year, The Unicorn Club has undergone Stage 1 of much-needed refurbishment. Enclosed you will find details of this project along with plans for Stage 2. Our sincere thanks to those who have supported and contributed to this important work thus far.
In 2019, MHSOBA delivered a busy calendar of events including 11 Reunions; Homecoming for Class of 2018; four Student Vocational Seminars; our Annual Dinner at Leonda; the annual Golf Day at Southern Golf Club; our second AFL Finals Luncheon at Marvel Stadium and Appreciation Evening.
In support of MHS, affiliate organisations and sporting clubs, MHSOBA also assisted in the delivery of 55 meetings or events. Additionally, we hosted 17 private events for Old Boys and external clients throughout the year in The Unicorn Club ranging from professional multi-day seminars to workshops, cocktail parties and birthday celebrations.
If you would like to submit an article for the next edition, please get in touch with Luca Gonano (MHS Exit 2003): digital@mhsoba.asn.au
Please click on the link below to download the latest edition of the MHSOBA Newsletter.

DOWNLOAD PDF
December 2019 MHSOBA Newsletter