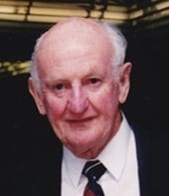 Vale – Charles Norman Geschke OBE.
MHS Exit 1939.
Norman (as he was known) died on 23 July 2018 aged 94.
He was at MHS 1938 and 1939. He went on to commence a Commerce degree at the University of Melbourne, but after two years enlisted first in the army and then the RAAF. He had a distinguished war record and rose to become Director of Recruiting. In 1967 he was awarded the OBE in recognition of his outstanding service. He retired in 1971 with the rank of Group Captain and became Business Manager of the Howard Florey Institute for Medical Research.
In 1974 he was appointed Victoria's first Director of Consumer Affairs. In 1980 he was appointed to another key post, as Victoria's first Ombudsman. A pioneer, he often had trouble with governments and government departments and when he relinquished office after 19 and a half years in the post he did a special final report in which he made useful criticisms which helped reshape the post. He was a board member of the International Ombudsman Institute and was made an Honorary Life Member in recognition of his service. He was the world's longest serving Ombudsman.
A great supporter of the school and the Old Boys Association, he was a regular at events and he and his charming wife Audrey were a much loved couple. Norm would ask the most penetrating questions of any speaker – he had a wealth of knowledge. A delightful person, he was a popular figure and many were unaware of his most distinguished career. He was always great company.
Written by Alan Gregory AM (MHS Exit 1955)