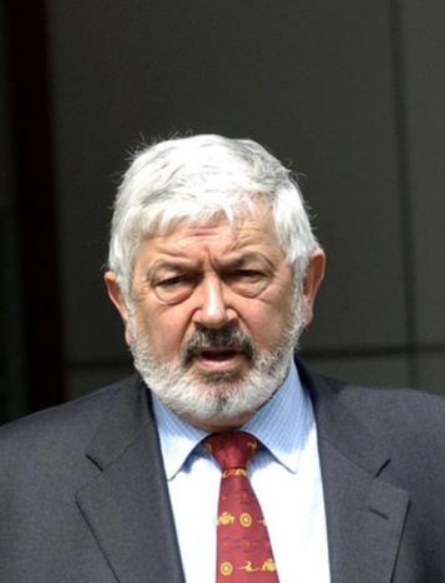 Colin Lovitt, BA, LLB, QC
17 March 1945 – 10 January 2021
MHS 1961-1962
Colin Lovitt was a late entrant to Melbourne High School. He came across from Northcote High School in 1961 for Leaving and Matric. He gained Matric Honours in British and Modern History. I became friends with Colin as we shared a love, and classes, of History with Ben Munday and Graham Worrall as inspirational teachers. At school Colin held a prominent position, together with Tony Jacobs and Alan Stockdale, in the "Mrs Romuld (librarian) Fan Club."
Colin was admitted to practice law in 1969 and was called to the Bar in 1970, where he read with the late John Fogarty AM. Colin was a leader of the Criminal Bar, serving on the Criminal Bar Association for many years, several of which as Chairman.
In 45 years at the bar Colin notched up wins in some of the State's most high profile cases, including helping Mark "Chopper" Read beat a murder charge. He also successfully defended Greg Domaszewicz when he was charged with the June 1997 murder of Moe toddler Jayden Leskie. Mr Domaszewicz was the then-boyfriend of the boy's mother Bilynda Williams.  And Colin Lovitt was no stranger to controversy. He was fined $10,000 in 2003 after calling Queensland magistrate Bruce Zahner a "complete cretin" during a court case.
Outside of law, Colin was a great lover of cricket. He joined the Carlton CC committee in 1980 and performed many roles including chairing the Finance and Match committees, honorary legal adviser and assumed the Presidency of the Carlton Cricket Club from 1997-2005.
Colin was guest speaker at the Odd Friday Lunch, at Percy Jones' North Fitzroy Arms Hotel, on 9 May 2017, a couple of years after Colin retired from the bar. He was a good mate of Percy Jones and loved all to do with the Carlton Football and Cricket clubs.
Journalist Lawrence Money has assembled a collection of Amazing Aussie Bastards who truly stand out from the crowd. Immune to critics and disbelievers, undaunted by illness or financial setback, they have done what writer Somerset Maugham so admired — 'moulded life to their own liking.'  We have all met them, or at least read about them – men who drive faster, climb higher, build and invent and triumph over impossible odds. Colin Lovitt was one of these Amazing Aussie Bastards in Lawrence Money's book.
I managed to catch up with Colin a few times over the years, generally for lunch at a Melbourne restaurant close to the law courts. Stories of times at MHS dominated conversation. I managed to get Colin to speak at one of the MHSOBA Annual Dinners at Hawthorn Receptions. He regaled the large 300+ audience with some of the cases he represented as criminal barrister for the defence. Outstanding.
Colin Lovitt was a great MHS personality. Victorian Supreme Court Justice Lex Lasry posted a tribute to Colin on social media. "He was one of the bar's greatest characters and a formidable criminal defence lawyer," he said.
Colin leaves behind his wife Margaret, sons Marcus and Zane, and daughters-in-law Mieko and Kate.
Colin Green OAM
Patron, MHSOBA Inc.