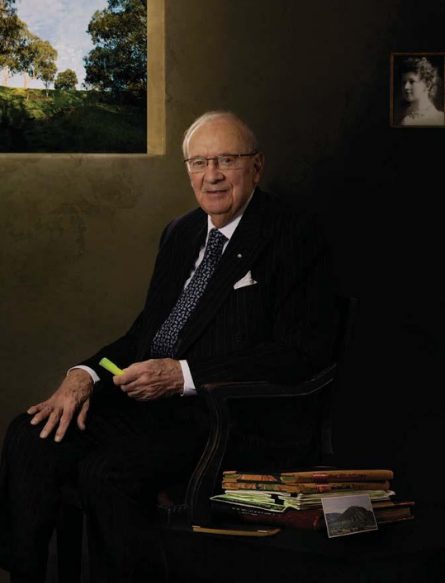 Darvell Martin Hutchinson, F.C.A., AM
1 July 1930 – 1 February 2022
MHS 1944-1946
A quiet and solid student at school, his sports included swimming, tennis, cricket and cycling, and he was noted for his interest in reading and good music.  Becoming an accountant on leaving school, he rose to Senior Partner of Pannell Kerr Forster (now PKF) Chartered Accountants.
His skills were in demand, he was Director of The Décor Corporation and Director of the Bank of Melbourne Ltd.  It was in the community sector that he contributed so much, as President of Asthma Foundation of Victoria, Trustee and Treasurer of the National Gallery of Victoria, National Treasurer of The Order of Australia Association Foundation amongst various roles he undertook.
His most significant role though was as Chairman and Trustee of the Helen McPherson Smith (Schutt) Foundation.  Founded by a bequest by Helen Macpherson Schutt (nee Smith) in her will, it was worth £275,000 when Darvell became involved in 1964.  When he retired 50 years later, it was worth $100 million and had distributed $105 million in that time.  Joining him at the Foundation was Barry Hutchins, MHS 1944-1946.
In 1985 he joined the Australian Association of Philanthropy (now Philanthropy Australia) driving change to make it a more professional and active organisation, supporting and encouraging philanthropy in Australia.   He was honoured with an Honorary Life Membership of the Philanthropy Association and the Trust set up a permanent scholarship for an indigenous person of $45,000 a year at the University of Melbourne named after him.
Monash University conferred upon him the degree of Doctor of Laws honoris causa for his contribution to the Victorian community and 'to Melbourne's role as the major centre of philanthropy in Australia' and he was made a Member of the Order of Australia on Queens' Birthday 1994.  A strong supporter of the school, the Old Boys Association and the G.M.B. Patrons' Club.  The Order of Australia Boards in the upper foyer were the result of his and Barry's encouragement and support.  He married Barbara Elizabeth Cook in 1958 and they had three children.
A detailed report of his activities at the Helen Macpherson Smith trust is available at: https://hmstrust.org.au/wp-content/uploads/2017/03/DMH-1964-to-2014.pdf
Dr Alan Gregory Honorary School Historian and Luke Savage Honorary School Archivist
Memories of Darvel and Barry
by John O Miller MHS 1944-1947
 "…..Darvell was my first and earliest MHS friend as we sat together in form 3G at Tooronga Road in 1944, and being together at Forrest Hill 1945-46.
Darvell arrived from Gardenvale Central and myself from Caulfield North.
Also on this same MHS journey was his lifelong friend and business associate J Barry Hutchins together with John Harrison a friend of we three. We were in the commercial stream which also did German, Geography, Economics and History. Darvell shone in Accounting which became his career. In 1946 he won the Australia wide competition of the Commonwealth Institute of Accountants for students at Leaving level (now year 11)- In those days this was the usual last year of schooling for those (many from poorer families) seeking careers in accounting , commerce and industry, rather than going to university. Darvell subsequently regretted that family circumstances precluded him from staying on at MHS for Matric (and thence University) – in 1947 when Accounting was first introduced. I was one of only 9 students staying on for that year in accounting in 1947 and later completed a B.Com part time.
In 1947, Darvell and lifelong friend Barry Hutchins were recruited by the prestigious accounting firm Wilson Bishop and Henderson, later known as Pannell Kerr Forster. PKF.
A schoolboy prank occurred in our Economics class in late 1946 when I was bundled into a cupboard in the back of the classroom by these two and others just as the economics teacher arrived.
Being rather small I coped and decided to spend the whole class there!  As it happened the lesson was about our Central Bank's history and when the teacher mentioned the name of the first Governor – Sir Denzil Miller – the class erupted in laughter- to the teacher's bemusement. The class ended and I remained in foetal position in the cupboard – eyes closed. Of course Barry and Darvell were first on the scene and terrified. I could not restrain myself much longer and we laughed and laughed!
By 1984 -and still together at PKF since 1947 – both Darvell and Barry were seeking to move on to their work in philanthropic management so I was recruited by them to PKF  – joining my old MHS friends , succeeding Barry as Managing Partner in 1986 and Darvell as Chairman in 1988.
Thus concluding a cycle of collegiately that began over 4O years earlier …
John Miller
Yarra House   MHS 1944-47
PS:  the 1944 intake produced many future high achievers in business – Darvell and Barry together with their good friend John Harrison and JOM  were recognised in aggregate with 10 honours- Australian, Imperial and Ph.D's -.a profound collective , yet typical achievement  from the 1944 vintage intake! "