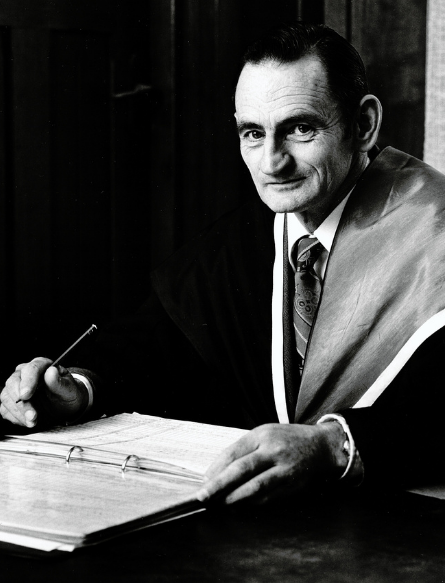 Dr. Graeme Ivallan Duke B.A.(Hons.), Dip.Ed., D.D.
7 July 1926 – 18 December 2021
MHS Staff 1961-1986
Graeme Duke was born into a Methodist family and won a scholarship to Wesley College. He then went to the University of Melbourne where he completed an Honours Arts degree and was a student of Queens College. He was an excellent scholar gaining honours in French and Ancient History, and a first class honour in Latin.  He then completed his Dip Ed and in 1947 joined the Education Department. His teaching career commenced at Rushworth Higher Elementary School where he was from 1948-1952. He was then promoted to University High School (1953-1960) where he was soon recognised as a first class teacher. In 1961 he was promoted to Melbourne High School to teach social studies but was soon promoted to the new category of Senior Teacher. This meant administrative responsibilities which he assumed with great ease and to good effect.
One his students, later Professor, Russell Lansbury noting him as an outstanding teacher also commented 'he read every student essay carefully but did not tell you what to think he posed questions- his interest was seminal'
A brilliant classroom teacher and pioneer in social studies and politics he had a scholarly breadth that saw him familiar with so much. He was well versed in the classics, Latin, modern literature and he was well versed in theology. He had a keen sense of humour and a dry wit but he was always modest and self- effacing.
Graeme was at the school under three principals Thompson, Collins and Barberis but he is most well known for his remarkable work as vice principal to Barberis. The two of them combined to make a brilliant and effective combination. He was promoted to Vice-Principal in 1976. In his work as vice-principal he became a legendary figure. His voice and presence immediately had the attention of the students, who respected him greatly. He rejoiced in the nick name of "Snapper", for reasons unknown.  Legend amongst the boys had him as a former boxer! He never had disciplinary problems.
Among his stories, was of a phone call reporting that a boy was ill and would be absent that day from school, asked who was speaking the reply was "Its my father speaking".
When Graeme Duke retired in 1986, Principal Lou Barberis said the debt to him was immense: he had administered a large and complex institution with apparent ease and his influence on staff and students was enormous. He was not only wise but his 'presence instilled respect'.  Barberis went on to say 'he brings to an exacting role a superb intellect, wisdom and long familiarity with and an inspired awareness of the unique character of MHS' and he showed 'unremitting dedication'.
He provided for staff and students important structures within which they could function and show creativity and achieve excellence.
Sadly soon after he retired in 1987 his wife Sheila, died. This was a grievous blow. He was a man of faith and he then undertook study for a Doctorate. He was successful and became a Doctorate of Divinity, his thesis topic was Biblical criticism and the Protestant Churches in Victoria 1850-1900.
Graeme retained a keen interest in the school was a regular at school and old boy events and was a key figure in the writing of the history of the school as well as the centenary celebrations."
A real scholar in retirement he undertook much scholarly work.
Not only was Graeme Duke one of the great figures in the history of MHS but one of the most loved.
He truly Honoured the Work
Dr Alan Gregory AM , School Historian