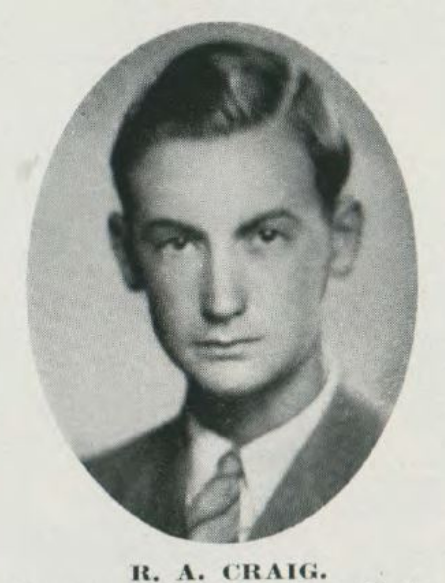 Dr Robert Arrol Craig, M.Sc., Ph.D.
12 July 1927 – 14 March 2020
MHS 1941-1944
Robert was born at St Albans Private Hospital in Springvale, Victoria, Australia. His parents were John Frederick, a journalist, and Margaret Kerr Craig, a nurse. Robert's father died when he was 18; his brother John was a fighter pilot shot down over Italy when he was 20. Robert was left with his mother and sister Margaret to care for him.
Robert attended Lloyd Street Central School in Malvern East, where he won a junior scholarship to Melbourne Boys High in 1941. He joined the Air Force Cadets for his final two years, as well as being in Como House's swimming and tennis teams. Academically brilliant, he won a Senior Scholarship, a General Exhibition, [Special Exhibitions] in Pure Mathematics and Chemistry, and the Dafydd Lewis Scholarship. The Dafydd Lewis Trust is an equity and merit based Scholarship available to young men who might not have otherwise received a university education due to the limited financial resources of their parents.
In 1948, Robert received his Bachelor of Science and, in 1950, his Masters of Science at Melbourne University. At Lincoln, he gained his Doctorate of Philosophy in 1962, his thesis being in Magnetic Resonance. Robert spent his working life as a Physical Chemistry lecturer at Melbourne University. Robert was also very involved at St Thomas Anglican Church, including choir work. In March 2016, Robert suffered a Thalamus stroke which affected his memory and alertness. He had enjoyed Sudoku in the past, and would become very frustrated at not being able to complete it as before. In March 2020, he had a bad fall, fracturing his hip and suffering bleeding on the brain. Now very frail, he did not survive.
Gwen Holmes, cousin
Published in the Lincoln College newsletter: https://lincoln.ox.ac.uk/asset/record-2019-20-web.pdf
Gwen donated a number of items of Robert's to the School Archives, including a map he drew in 1942 of the Asia/Pacific, showing the Japanese conquests.