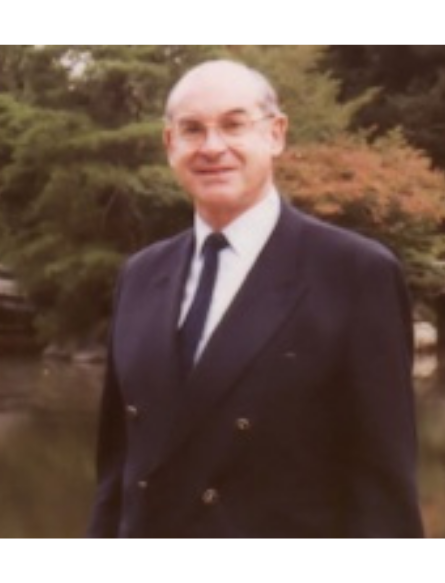 Edmund Marks Wolfe Visbord, B.Com., OBE, AO
21 September 1928 – June 2018
MHS 1942-1946
In his final year, Edmund was in the School Rugby Team and the Yarra Soccer Team, completing his Matriculation with Honours in Pure Mathematics.  He then studied a Bachelor of Commerce at the University, before joining the Commonwealth Public Service in 1951 in the Department of the Treasury, beginning a notable career.  He was Deputy Secretary, Department of Prime Minister and Cabinet and Acting Secretary for various times 1981-1986.  He was then Ambassador and Permanent Representative to the Organisation for Economic Company-operation and Development, Paris 1988.
He received the Officer of the Order of the British Empire in the 1983 New Years Honours list for public service, and was made an Officer of the Order of Australia on Queens' Birthday 1994, for service to the public sector, particularly in the areas of economic reform and economic policy development.
Luke Savage, Honorary School Archivist
Edmund Marks Wolfe Visbord
Edmund Visbord (we know him as 'Ed' or 'Eddie') was on the interviewing panel when Geoff applied for a job in Treasury in 1970. Eddie was Assistant Secretary, Fiscal and Monetary Policy Branch, at the time.
Geoff didn't see much of Eddie when he started in Fiscal Policy Section. He was senior and Geoff was a raw junior 'newbie'. They had one thing in common: being busy, especially preparing the annual Budget.
We saw more of Eddie when we went to Washington in 1972. He was Minister (Financial) at the Australian Embassy (where Val worked for Peter McLaughlin, George Pooley and Eddie). Geoff was at the IMF.
In that time, we became good friends. This was common amongst members of the 'Treasury family'. Embassy and IMF life reinforce friendships amongst small Australian communities. Such friendships endure after we all move on to other things. That was certainly the case for Eddie, Val and Geoff.
Our recollections of Eddie from Washington are of a friendly, outgoing person, a happy Embassy office, a superb ability to network with United States 'movers and shakers', and some now-legendary incidents and events.
We never saw Eddie angry. If impatient, or just for fun, his main method for disciplining his team was to throw paper clips at them. He was good fun to be around.
In Washington at the time, the Bretton Woods international monetary system was collapsing. President Nixon was enmeshed in 'Watergate'. Eddie's wide network of senior United States contacts facilitated reporting back to Australia about what was happening. He was excellent at his job there.
Eddie tended to be associated with memorable events of his own making, too.
An excruciatingly-funny incident occurred during the IMF/World Bank meetings held at the then rabbit warren called the Sheraton Park Hotel in Washington. Eddie was leading the entire Australian delegation, including the then Treasurer, the late Sir Billy Snedden, the then Secretary to the Treasury, the late Sir Frederick Wheeler, the then Reserve Bank Governor, the late Sir John (Jock) Phillips, and other senior people, to a meeting with (as we recall) the then United States Secretary of the Treasury (George Schultz).
After much twisting and turning through corridors that would have baffled a modern sat-nav system, Eddie finally reached a door to what he thought was the ante-room in the Schultz suite. He turned to smile at his followers as he opened it. His followers were first to see it was a broom closet. Fred Wheeler turned white. Snedden collapsed in laughter. This Fawlty Towers episode became another Eddie legend: 'The broom closet incident'. Eddie himself used to laugh about it when the matter came up subsequently.
One of the most impressive events created by Eddie during our time in Washington was a New Year's Eve party, held at his new house in Maryland. This had previously been owned by H.R.Haldeman of 'Watergate' fame. Naturally, Australians dubbed it 'Haldeman's Hideaway'. The party is now a blur for us. But one person stood out – literally. Paul Volcker was then under secretary of the Treasury for international monetary affairs. He came to Eddie's party, and stayed all night. He came dressed in a white matador costume, with black matador's hat, and a white cape with red lining. At six feet seven inches, you couldn't miss him! This was just another testament to Eddie's excellent networking abilities.
We saw less of Eddie after we returned to Australia, but sporadic contacts kept the friendship going. Eddie was a great cook and we had occasional meals together with him.
Most recently, Geoff used to catch up with Eddie and Betty at the gym in Deakin, and have a coffee and a chat afterwards. But Eddie's health quite rapidly deteriorated, and his last couple of years were increasingly tough for him.
Over the nearly 48 years we've counted Eddie as a good friend, we prefer to remember the good times with him. On our calculation, these span a period of over 95% of that time.
Vale Eddie.
Val & Geoff Carmody
Geoff & Val Carmody
https://www.davidwbull.com.au/funeral-notice/edmund-visbord/