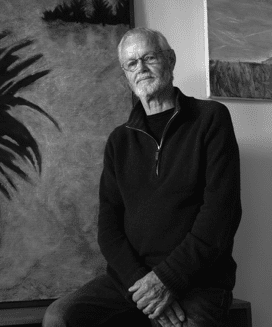 Vale – Graham McKenzie (1943 – 2019).
Melbourne High School alumni Graham McKenzie (Exit 1961) passed away on December 1, 2019, after living with Lymphoma for 18 months. Graham was a Melbourne based landscape painter and teacher. As a prolific artist, he was still creating artwork throughout his illness, and continued teaching art classes at the Victorian Artists Society. He spoke very fondly of the inspirational teachers he had at Melbourne High School that set him on his path to be an artist and teacher. He has remained close friends with several of the men he studied with during his school years.
After his graduation from Melbourne High School, Graham went on to study at Prahran Technical College, RMIT and completed his teacher training at Melbourne State College. Following these studies, he taught for two years at in Donald High School in the Wimmera, Victoria. On his return to Melbourne, he taught in a city school before accepting a teaching position in Alberta, Canada. He then moved to England and obtained a position working at the Whitechapel Art Gallery. Returning later to Melbourne, his teaching career spanned Kew High School, Wesley College and Methodist Ladies College. He also led workshops for the National Gallery, Hawthorn Artist Society, and the Victorian Artists Society.
Graham's painting, over the last three decades, took him to many remote Aboriginal communities across northern Australia, as well as many other regional and local destinations. The paintings he developed from these trips were inspired by indigenous cultures and their relationship to the land. His paintings continued to explore the experience of beauty in the landscape, not direct realist representations of natural features.
Throughout his artistic career Graham held 26 solo exhibitions and participated in numerous group exhibitions throughout Australia. He had recently been exhibiting with Tacit Gallery, Melbourne.