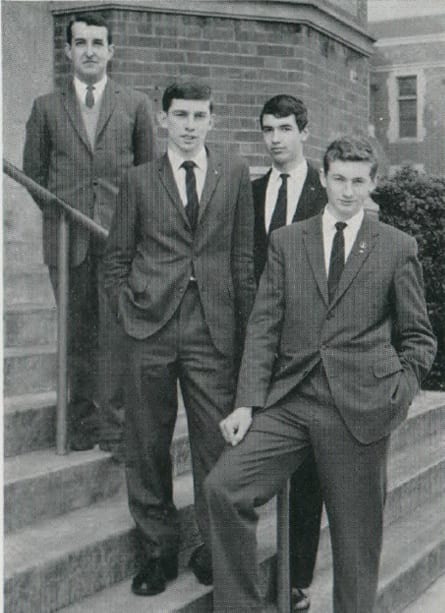 Graham Stewart Worrall B.A.(Hons), Dip.Ed.
28 November 1929 – 18 February 2020
MHS 1943 – 1946
MHS Staff 1957 – 1963
An accomplished student of the School and one of the most outstanding teachers in a Golden Age when the standard of teaching was high, has died aged 91. Not only was Graham renowned as a teacher, but he was much loved by all who had contact with him.
Graham transferred from Box Hill High School and joined MHS at its temporary home at Camberwell High School. He immediately made a mark, winning the Under 14 Athletics and Cross-Country Championships. He was also involved in the Sentinel, The Unicorn committee, the French Club, as well as writing poetry for the Unicorn. He played Hockey, being awarded both House (Como) and School Colours. He was a brilliant student, gaining honours at the Matriculation level in English Expression, English Literature, Modern History and British History. He won the Modern History Exhibition (meaning he was top of the
subject in the state) and a Free Place at the University of Melbourne.
Completing his B.A. with Honours and a Dip.Ed., he joined the Education Department in 1956, and was appointed to MHS the following year. In 1950 he married fellow Communist Party Member Alice Olive Hay (Australian Senator 1983-1995)—though they divorced in 1954—and in 1955 he married Barbara Patricia Cole. They had three children: Jane, Catherine, and Matthew; and later, three grand-children: Declan, Ellen and Timothy.
He was a truly outstanding teacher: when in 1964 Monash University was concerned about the ability of their staff to teach adequately, they recruited Graham to Monash where he was equally a success, gaining plaudits from all he taught. He was also involved with the Australian Historical Association, and he was Chairman of the Victorian History Standing Committee.
Historian Professor Ross Fitzgerald (MHS 1958-1961) described Graham as 'one of the School's most brilliant history teachers.
When the Distinguished Teachers Honour Board was launched during the time of Ray Willis, Graham was asked to unveil it. He spoke warmly and emotionally about his time at MHS, describing the influence the School had on him and other teachers such as Neville Drohan, David Niven, Brian Corless, and Ben Munday.
Luke Savage & Alan Gregory