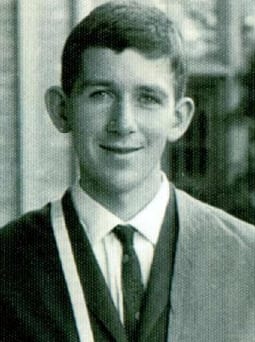 Vale – Ian McAleese (1942 – 2019).
As a prefect in 1959 and vice-captain of Yarra House, Ian McAleese had a high profile at Melbourne High School – a profile that was earned from excellent academic results, and particularly from his prodigious talent as a distance runner.
Ian set new School records for 880 yards, the mile and for cross-country. Just as notable was Ian's friendliness and his involvement in encouraging and mentoring other developing athletes. Beyond school, Ian set State records, won several State championships, and represented Victoria in National competitions.
At the University of Melbourne, Ian completed a Science degree, majoring in mathematics. This led to a long career in the fast-developing area of computing.
In 1967 Ian married Vivien Hall, and a few years thereafter they welcomed their first daughter, Janet. While Janet was still a baby, they all travelled to the UK, where they established in London their family home, soon to be shared with a second daughter, Caroline.
For the last several years, Ian lived with Parkinson's disease, the effects of which became serious in the last year. Ian died in London on 7th October 2019 at the age of 77. He is survived by his sister, Elizabeth, his wife, Vivien, his daughters Janet and Caroline, son-in-law Justin Tyas, and grandchildren Lucy and David.
Written by Ian Jones