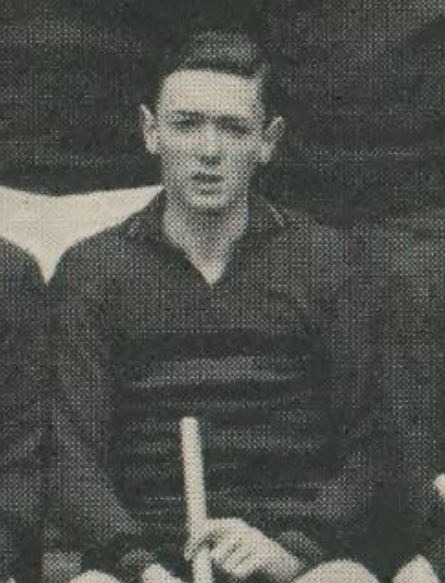 John Barrie Wykes
17 March 1929 – 28 April 2020
MHS 1943-1945
John was a second generation student at Melbourne High School, his mother Ida Mildred Burling Glover having attended in 1912, though she had attended Spring Road, rather than Lloyd Street, before.  A Brilliant Lacrosse player, he was selected for the School Team whilst in third form, and was Captain two years later, winning the Speech Night Prize.   He also took photos of the athletics events on the school oval, which were published in The Unicorn.
Luke Savage, Honorary School Archivist
In Memoriam John Barrie Wykes  https://emhs.org.au/tributes/wykes/john_barrie
[17 March 1929 – 28 April 2020] by his eldest son, Boyd Wykes, a retired Ornithologist residing in Margaret River
My father John Wykes passed away on 28th April, at the height of the corona outbreak but as a result of an operation conducted shortly before the clampdown that offered hope of relief from chronically painful, crippling rheumatoid arthritis in the knees.
On behalf of John's five sons, may I express to members of the East Melbourne Historical Society my family's recognition for the many close friendships that he and, until her untimely death, his dearly loved wife Norma made as long-time residents in their characterful terraced house in Albert St. Our condolences as well to Pennie Kendall, who many will know as Dad's wonderful companion in recent years. I have scribbled screeds about my father's many-faceted life since his death. Here in this short piece I focus on my father as a resident artist for whom the beauty, culture and community of historic East Melbourne was the inspiration for many of his works.
Born 17 March 1929, John was blessed with a long life in good health, exemplified by the pleasure for my brother Matthew and me being able to play tennis with him and his mates at Kooyong on a visit from WA last year for his 90th birthday. John was most at home in the historic inner residential heart of Melbourne, as reflected in his many water-colour street landscapes, including a handsome greeting card series for the East Melbourne Group. Raised in East Malvern and schooled at Melbourne Boys High, his career in advertising was city based, firstly in an agency and then with Ansett Airlines at the top of Swanston St. However, as with many young couples of the early 1950s aspiring to own a home in which to raise their family without the burden of a loan, John and his bride Elizabeth (Beth) chose the newly-subdivided paddocks of Lower Plenty to purchase a quarter acre block and self-build. Here, in close fellowship with similarly positioned neighbours, they designed and built a Frank-Lloyd Wright inspired butterfly roofed 'Californian bungalow', constructed of cement bricks individually made on site in wooden moulds.
Through Beth's influence, all five sons pursued natural history interests, leading to life-long commitments to conservation. John's legacy was to instil a passion for outdoor, individualistic sport. Many a tale of John's athletic passions and adventures will be shared when the family is able to unite following the lifting of current travel restrictions. Suffice to say for this piece that there is a lot of ground to cover – lacrosse, skiing, tennis, running, surfing, wind-surfing, hang-gliding.
No doubt the bohemian artistic culture of the Heidelberg/Eltham region also had an attraction for John and fostered his later decision to pursue the practice of painting. For many of his East Melbournian friends, John will be remembered for his art. A likely inspirational spark was childhood visits to his Aunt Peg's Melbourne art gallery, and indeed John's father Calvin also devoted himself to oil painting in his retirement years. As a lad and young adult John was a keen photographer and this, combined with interest in sketching and languages, led naturally into advertising as a career. A strong element of John's character was dedication to achieving excellence in all that he did, through learning, analysis and progression based on the latest thinking and technology. An allied trait was an interest and capacity to share his passions with others, no doubt fundamental to his success as a manager with Ansett Airlines and, perhaps not well known, as a tennis coach. Even before retirement from advertising, as a recreational outlet, John qualified and worked as a tennis coach in conjunction with his close friend, North Balwyn's highly regarded Neil Guiney.
Although oils were John's medium for plein air oil painting on holidays at Wilson's Promontory with his young family, in retirement he turned to watercolours and in keeping with his character, devoted himself to fully understanding the materials and developing his skills to a professional level, seeking to sell his work to at least recoup his costs and only give away pieces to those who would truly value the gift. For John, subject matter was primarily chosen to best suit the watercolour medium and challenge his ability – waterways, seascapes, boats, reflections, cloudscapes, rain-washed streets. Often a human or animal figure of interest featured in the landscape. Again in character, John's pleasure in his art progressed in his latter years to passing on his passion and knowledge through his popular classes at Hawthorn U3A. Surprising to some was that someone of his generation should not only recognise the advantages of the i-pad as a new medium for learning to paint but have the courage and aptitude to embrace that technology in his teaching. This was not only testimony to John's youthful, forward-looking outlook but also an extension of his early interest in the highly technical art of early photography, and a career in airline advertising and marketing that encompassed the innovations of television, computing and the internet.
John's family and friends will miss an amiable, gifted and generous man, agile in body and mind to the last.