Vale – John Eric Greaves (31 May 1934 – September 2020).
MHS 1947-1951
Was in Como House, came from Gardenvale Central School. Was in the Junior General Club and the Geology Club. His form photo is below, Colin Brumby the composer is two over from John.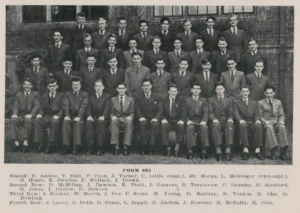 Luke Savage Honorary School Archivist
---
From grandson Brett Woods:
My grandfather, John Greaves (born 1934), was an Old Boy and adored his time at MHS and attended reunions with great joy. In his second year at MHS, he was in an accident that left him in hospital for a year and unable to attend school. He spoke fondly of his maths teacher who tutored him every lunchtime when he returned to school to help him catch up and stay with his peers. He was able to graduate with his peers and head to uni to become a physio.