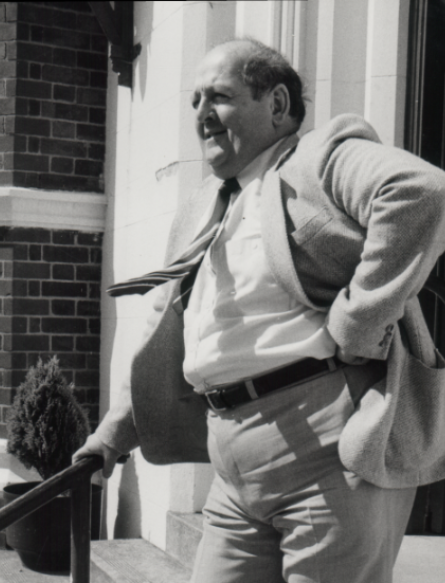 John Raymond James Grigsby B.A.(Hons.), Dip.Ed.
10 August 1940 – 11 August 2023
MHS Staff 1964 – 1993
Studying a Bachelor of Arts in history, John was awarded Honours for a thesis on the leadership of the Catholic Church under Archbishop Gould (he would go on to write several entries for the Australian Dictionary of Biography on notable Catholics).
As an undergraduate at the University of Melbourne, John lived at Newman College.  He would go on to become History Tutor and Senior Tutor at Newman, a role he held for several years including during his early years of teaching at Melbourne High School.  After he completed his Diploma of Education he was appointed to Melbourne High School as teacher of history.
He became master in Charge of Debating, and the following year was promoted, and also took charge of the Cadet Unit's Q Store as Captain.  From 1967 he was second in Command of the Cadet Unit to Major Munday and also in charge of the Rifle Shooting team.  In 1969 he was promoted to Major and to Officer in Charge of the Cadets, a position he held until 1981, and resumed 1985-1987.  The Dress and Drill competition trophy is named after him.
John was a major figure in the school during a turbulent time.  The late 1960's saw a push for change away from the traditions of the past, culminating in the Strike of 1971.  John, along with several other key staff ensured that academic standards remained high; that the co-curricular side of the school continued; and that the cadets kept going following defunding by the Whitlam government.  He authored several history text books, including The Turbulent Years (a history of Australia 1770-1980) and An Atlas of Australian History.  For the staff revue in the late 1970's he played a very convincing Queen Victoria.
John maintained an active role in curriculum development and assessment of History both at Melbourne High School and at a state level.  He was History Co-ordinator at MHS for many years.  In this role, he was a positive and valued mentor for many young teachers within the History Department.  He was also an examiner for Eighteenth Century History under VUSEB and VISE, working closely with colleagues from both government and independent schools.  John was promoted to Fifth Form level Co-ordinator in 1982, and to Year 12 Level Co-Ordinator in 1986.
After time away on long service leave in 1990, he became the Co-Ordinator for the new VCE in 1991.  This was a challenging role, with the change from an exam based single year HSC, to a two year course, based around school based assessment.   John was also Staff Rep on School for two years.  At the end of 1993 he took a redundancy package and retired early to Geelong.  He was a donor of Speech Night prizes from his retirement (Information Management, Heritage and/or Cadets).
At his request there was no funeral, and he was cremated.  Part of his ashes were interned at the Geelong Eastern Cemetery and the remainder to be interned at Newman College.  A farewell will be held at the Old Boys' Pavilion following the School's Annual Cadet Parade.
Luke Savage, Honorary School Archivist with additions from Barbara Green