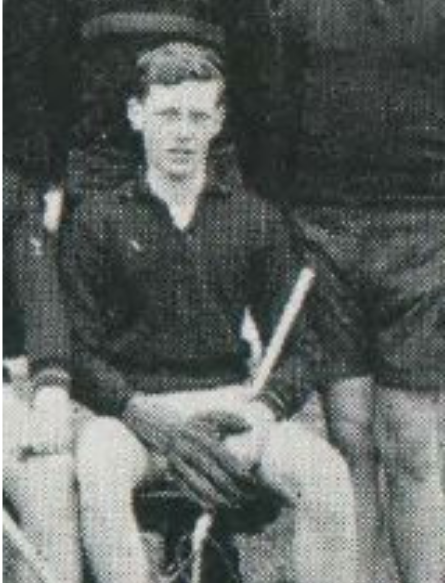 Keith Alfred Brierley
26 October 1927 – 4 December 2020
MHS 1941-1943
A keen Lacrosse player, for both Yarra and the School, winning Colours in both, he also played House Hockey.
Luke Savage, Honorary School Archivist.
ALFRED 'KEITH' BRIERLEY
INTERVIEW OF KEITH BRIERLEY – ROTARY CLUB OF MELBOURNE 'CHAMPION' August 23, 2017
"'Love, strength of purpose, spiritual integrity and cultural diversity', are just some of the words I would apply to Keith Brierley after interviewing one of our dearest Club Members this week.
Keith was so happy that I took time out to visit him at his beautiful AdventCare Nursing Home and share in some of his life history.
Keith was born in 1927 and spent more than 60 years administering hospitals. He commenced this career at the Wangaratta Base Hospital in 1949 armed initially with three degrees in Accounting. His business acumen was noted immediately and he was given the position of Hospital Administrator. Keith and his wife Valerie, lived in Wangaratta until the illness of their third-born child prompted them to move to Melbourne for treatment.
The next hospital was the Mordialloc-Cheltenham Hospital where "lots of babies" were born at that time in the 1950's. Keith was given management of the hospital and the hospital flourished.
It was during Keith's management a few years later at the Castlemaine Hospital, he successfully completed his studies in Hospital Administration which led to the family's return to Melbourne when he was officially appointed Finance Officer and then Assistant Manager/Secretary of Prince Henry's Hospital on St Kilda Rd. (See Reference below.) Keith worked at Prince Henry's Hospital during a period of effective, positive growth and international respect for the hospital's acclaimed research, especially in Endocrinology.
By then the Brierley family had grown to five children and the Doncaster home was one of joy-filled years. Do you remember the Quadruplets who were born in the 1970's. Keith and his wife Valerie somehow found the time to be parish carers of these beautiful babies providing much needed support for their parents.
We may all remember the esteemed St Andrew's Presbyterian Hospital? Keith conveyed his pride in his time spent at St Andrew's during which time, there was unification of the Methodist and Presbyterian Churches to then become the Uniting Church of Australia. Incidentally, St Andrew's was accredited as one of the finest general surgical and maternity hospitals in Victoria.
It was during this time, Keith became President of the Australian Church Private Hospitals Association. Keith was highly respected as a lay preacher in the Uniting Church, sang in the Church Choir, Avenmen Male Harmony Group and our own Club Choir! He also found time and enjoyed cricket, lacrosse and golf.
I asked Keith about his Rotary involvement and he conveyed how he became a Melbourne Rotarian when he was working at St Andrew's and met many Rotary Club of Melbourne members in his professional capacity.
He was particularly proud of two major Rotary projects. The first project saw him visiting Vietnam after the Vietnam War when he provided his support and professional services to the Primary Health care project which assisted in providing much improved medical facilities and return the basic health care to the Vietnamese struggling to survive and maintain life.
The second project Keith remembered was his assistance in raising money to prevent Leprosy in Third World countries. He visited both Cambodia and Vietnam in the 1980's and felt privileged and proud to be part of the Club's work in aiding the "stamping out" of Leprosy in the world.
Keith mentioned repeatedly time spent with his anaesthetist Rotarian friend, Dr George Tippett who encouraged and shared the same need to improve primary health care for humanity.
Grace Warren was also mentioned repeatedly by Keith as being a person he admired immensely. Dr Grace Warren has spent her professional and personal life bringing hope to people who have lost hope. She is a Christian missionary, surgeon, teacher who continues to lead a remarkable life in the service of the disabled, primarily those suffering from leprosy. Dr Warren was also a highly respected Honorary Member of the Rotary Club of Melbourne.
When I asked Keith what were some important changes in Rotary since his induction in 1981, he immediately said "women worldwide". It was a turning point for Rotary to accept women membership. His message for the future of Rotary? "Keep the youth!"
As I left, I asked Keith "What is something Rotarians don't know about you?" He replied as he picked up his current book: "Love Over Scotland" (Alex McCall-Smith)…… " I have 20/20 Vision!"
Yes Keith, I agree, you do have perfect vision and it was a treat to visit you!
Editor's Note: Keith was turning 90 in October 2017, and was hoping that some Rotarians especially President Mary Barry (2017/18) may share his birthday with him, his 5 children, 10 plus Grandchildren and 12 Great Grandchildren, and friends.  (Mary Barry did attend Keith's Birthday.  Thank you Mary!)
KEITH'S ROTARY AWARDS/HISTORY included:
1972 Inducted into Rotary Club of Castlemaine;
1981 Inducted into Rotary Club of Melbourne;
1992, his second year on the Board, he was named a Paul Harris Fellow in recognition of the provision of life saving medical care at Cabrini Hospital in Melbourne for a young lady from Fiji and in the re-establishment and improvement of the Paediatric Centre in Ho Chi Minh City, Vietnam and for Keith's work as Chairman of the International Service Committee;
In 1993-94, Vice President and outstanding leadership to the International Service projects of the Club such as the Posyandu health scheme in Indonesia, and our projects in Thailand and Bangladesh;
In 1999 Keith became the Club link in the collection of coins to support the Rotarians Against Malaria Project;
2006 – Sapphire Paul Harris Fellow.
We congratulate and honour Keith Brierley, an epitomiser of Service Above Self."
NOTE 1: Prince Henry's Hospital was known as Homeopathic Hospital from 1869 to 1934. In 1952 Prince Henry's was affiliated to the University of Melbourne as an undergraduate and postgraduate teaching hospital, an affiliation that was transferred in 1962 to Monash University's Faculty of Medicine.
The hospital was also a centre for nurse education and medical research, most notably through the Prince Henry's Medical Research Centre (established in 1960), which specialised in endocrinology, particularly in reproductive medicine.
Tied to the Monash Medical Faculty until it became autonomous in 1972, it was incorporated in 1990 and renamed the Prince Henry's Institute of Medical Research. The leading endocrinology research institute in Australia, it enjoys an international reputation.
In 1987 Prince Henry's was amalgamated with the Queen Victoria Medical Centre and Moorabbin Hospital to form the Monash Medical Centre, which opened in 1992. (Excerpt taken from: www.emelbourne.net.au)
Interview by Dorothy Gilmour for Rotary Melbourne
https://rotaryclubofmelbourne.org.au/bulletin-articles-item/41658/alfred-keith-brierley/?type_fr=18