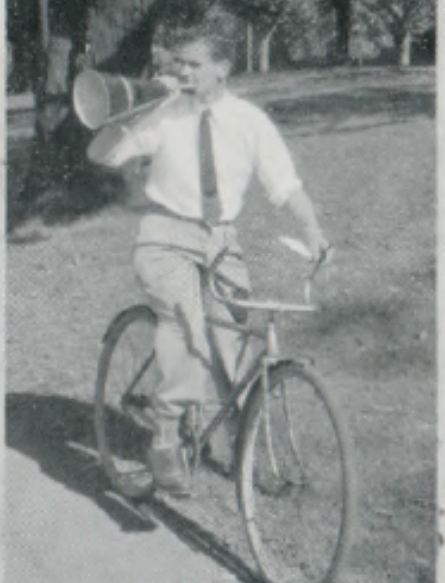 Keith Graeme Mill, T.P.T.C., B.Sc., Dip.Ed.
9 October 1927 – 14 August 2021
MHS 1942-1945, MHS Staff 1954-1968
Keith attended MHS from 1942 to 1945. He was in the school orchestra and did an excellent Matriculation year gaining honours in Chemistry and awarded a Free Place and a place in the Agricultural Science course. He did not appear to take that up but instead did his training as a primary teacher (TPTC).
Doing well he was allowed to go to university and completed a Bachelor of Science and Dip Ed (at the University of Melbourne).  He joined the Education Department in 1947 and in 1954 was posted to MHS where he taught Chemistry and Science He was one of the "young Turks' who joining the likes of Neville Drohan, Ken Evans, Arthur Cocks, were to have such an impact on the school.
He became Rowing Master and was both hardworking, repairing boats and encouraging, and he had a record number of boys doing rowing. He coached at all levels, in 1959 helped achieve a new VIII which was launched by Joan Thompson in the presence of Premier Lindsay Thompson. It was one of the most successful periods for rowing in the school's history, winning the All High Schools Regatta a number of times and also winning the Raleigh Cup.
He was a form master and involved with houses, becoming a Sixth form master in 1962 and House Master of Forrest in 1960. He was also appointed General Science co-ordinator. He looked after the Chemistry Club. He was not infallible though, the 1957 Unicorn reports 'When 3C visited Tecoma earlier in the year, Mr. Mill led us on a hike in the afternoon. He tried to lead us back through the bush, but unfortunately we got lost in the process, so that we had to run back and were still a quarter of an hour late for the bus.'
In 1977 he became a high school Principal of Coomoora High School in Springvale South and was a successful and caring principal. The school was amalgamated to form Keysborough Secondary College.
He was involved in many community activities in his retirement.
Keith continued to maintain a keen interest in both the school and rowing, and attended rowing dinners, and was a regular at the MHSOBA lunches. A kindly and sincere man, he was much loved by all who came into contact with him. He had a quiet but endearing manner.
Dr Alan Gregory, Honorary School Historian

ODE ON A BUSH TRACK
Tall gums beneath a windswept sky,
A track enticing passers-by
To haunts that 'scape the casual eye.
Wait here-to dream.
I know not where it winds or goes;
I know not if the south wind blows
Across its path or a stream flows
Along its edge.
But follow with a fervent will,
To seek true thought that knows no ill,
Enrapt in lonely silence, still
In Nature's arms.
And if you find Her, waiting there
With Autumn blooming in her hair,
Take heed of Her and take good care—
For memories fade.
My friends, 'tis not the best in life
To be a hero in the strife;
Lost pride cuts like a sharpened knife
The pawns of fame.
Yet e'en the mighty, day by day,
Remember pastures far away
And glades where weary cattle lay—
And labour on.
—Keith Mill (5a1).