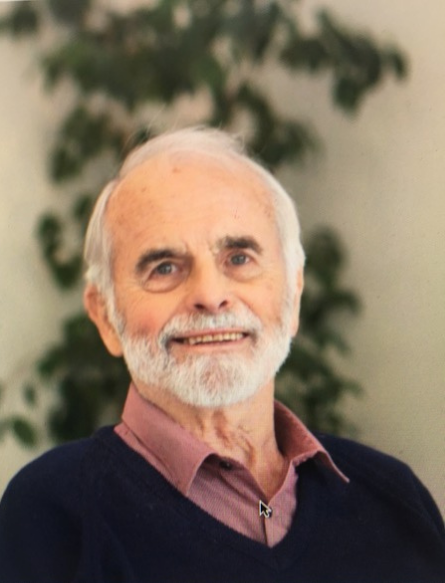 Laurance "Laurie" Carlson
18 September 1936 to 20 January 2022
MHS 1950 – 1954
Laurie attended Graeme Street Primary School and then Middle Park Central School where he was the dux in his final year. After primary school he went on to Melbourne High School where he continued to thrive and take on the leadership role of prefect, as we have heard. It was at this time that his lifelong love of music began to develop as he also started to learn the Piano Accordion. He performed on the radio several times and as his skills grew, he earned some pocket money by playing at square dances while his best friend Alex used to call the dances.
It was around this time that the Herald Sun Youth Travel Program commenced. Outstanding students from Victoria and South Australia were encouraged by their schools to apply. One day, Laurie was called into the headmaster's office and asked why he had not yet applied to be considered for the upcoming trip to England? Laurie replied that he didn't think that the family could afford it and that he didn't want to miss out on so much school. The headmaster assured him that costs would be taken care of and if necessary, he was still young enough to repeat the school year on his return.
So, in 1952, Laurie, his Piano Accordion, and a group of about 90 15-year-olds from Victoria and South Australia took off by ship for the trip of a lifetime. They were away for 3 to 4 months. (Much of that time taken on the voyage there and back of course!)
Having finished his schooling at Melbourne High, Laurie found a position at the library of the Government Aircraft Factory in Port Melbourne and commenced studying various library qualifications.
It was at the age of 18, after he had started work that he realised something was wrong in the way his body was behaving. After many tests, he was finally diagnosed with MS. (Multiple Sclerosis) A fairly rapid deterioration followed as his eyesight was affected and he became paralysed in his legs and arms. He was told at this point that he may never walk again. Showing remarkable determination, and with the help of his devoted parents, as well as a nurse who lived next door, Laurie began a punishing regime to stimulate the muscles in his legs. This included water therapy, with his father carrying him down to the beach at Port Melbourne for exercise.
One day, as his father was massaging his feet, Laurie's foot almost kicked him in the face. What Joy they all felt at this sign of improvement!
Their nurse then suggested that they try the Fairfield Hospital Polio therapy department. In those years, very little was known about MS compared to today. The treatment and therapy proved successful, and after an enormous amount of perseverance, as well as encouragement and support from his parents, Laurie began to get feeling back in his legs and then, eventually, walk again.
Laurie's dream had been to study medicine, however, given his diagnosis, he was advised to work in a less physically demanding field and so he continued his life's work as a librarian. He also studied on a part time basis, completing a Bachelor of Arts at Melbourne University.
Outside of work Laurie was instrumental in setting up the MS Society, realising that sufferers needed an organisation for support and information. The MS Society continues to be a very active in the community, conducting much needed fundraising to conduct research into MS. Never one for throwing things out, there is still a filing cabinet at home full of notes taken at the early meetings that Laurie attended!
When children Lise and Bengt were young the family lived in Clayton and Laurie was librarian in charge at the Port Melbourne Public Library. It was 1972, when Laurie was offered the position of Readers' Services Librarian at Deakin University that the family moved to Highton. From there his career continued to flourish and he finished at Deakin as the deputy chief Librarian to Margaret Cameron. He continued this work until he took early retirement at age 55 when his MS began to deteriorate. Never one to "let the grass grow under his feet" Laurie was also studying his Masters in History and the Philosophy of Science, writing his thesis on the History of the water supply in the Geelong Region.
His intelligence, positivity, and good sense of humour made an impression on every one who he met. He will be greatly missed by our family, and many friends.
Excerpts of Laurie's eulogy from his wife, Gunn Carlson