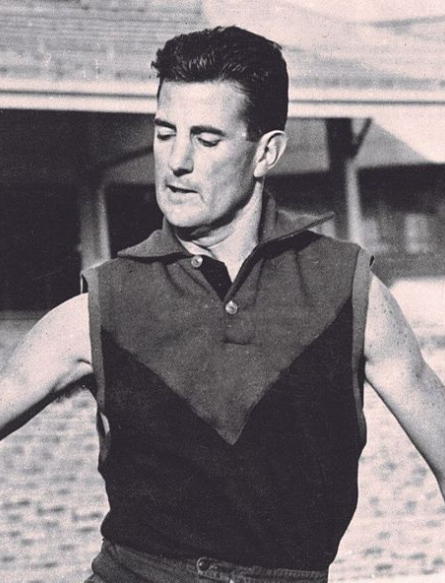 Lawrence "Laurie" Sidney Mithen, T.P.T.C., B.A.
15 April 1934  to 1 February 2022
MHS Staff 1960-1965
Laurie Mithen was a notable footballer with the Melbourne Football Club playing in five Premierships, and also a teacher at MHS who was a popular and respected figure. He taught  French, History, Maths, English and Science.
Initially he trained as a primary teacher attending the Melbourne Teachers' College 1952-1956.
He started off his teaching career at the Huntingdale State School and Lloyd Street Central School 1957-1959. Appointed to Elwood Central School January 1960, instead he was transferred to MHS.  He married TV personality Wendy Marshall in 1959 and taught in Western Australia, where he was appointed coach of Claremont.  He then taught in Canada.
A former league footballer with Melbourne Football Club,  he played from 1952 to 1954. A great player, he was tough yet elegant. He won back-to-back Melbourne best and fairest awards (Bluey Truscott Award, named after famous MHSOB) in 1958-59, was a member of the club's premiership flags in 1955-56-57 and 1959-60. In total, Mithen played 153 games from 1954-62 and topped Melbourne's goalkicking in 1962.  He later played V.F.A. with Port Melbourne 1963-1965, being Captain and Coach and winning the 1964 premiership  and then in the W.A.F.L. playing with Claremont 1966-1967.
Dr Alan Gregory
---
A tribute to Laurie from the Melbourne Football Club can be viewed here.