Vale – Michael Solomon Gudinski AM
22 August 1952 – 2 March 2021
MHS 1969
MHSOBA is deeply saddened to hear of the sudden passing of distinguished Old Boy, Michael Gudinski AM.
A member of the cadets, Michael played football in the MHS Under 15 team in 1967 alongside John Diedrich. His form notes for 1969 noted the talents he became famous for "Gudinski, organise a band! Let the celebrations begin!"
Widely recognised as one of the most important figures in the history of the Australian music industry, he founded Mushroom Group in 1973 with the inception of Mushroom Records and Mushroom Music Publishing. Now Australia's largest independent music entertainment group, Mushroom has nearly two dozen specialist brands incorporating international and domestic touring, booking agencies, record labels, merchandising, music publishing, creative and marketing services, venues, exhibition and events production, film and television production.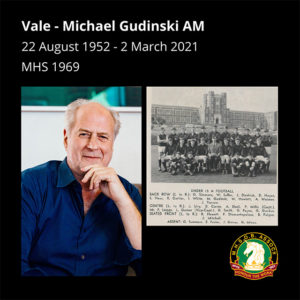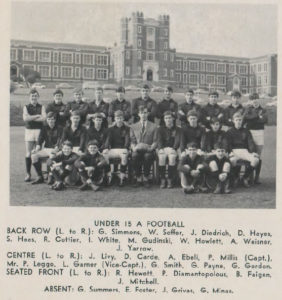 Michael's achievements were many including:
2006 – Awarded an Order of Australia medal for service to the entertainment industry
2006 – Listed in The Bulletin's "100 Most Influential Australians"
2009 – Presented with the prestigious J.C. Williamson Award at the Helpmann Awards – the foremost honour that the Australian live entertainment industry can bestow
2009 – Listed in The Age Melbourne Magazine's 2009 Top 100 for his work on the Sound Relief benefit concerts which raised more than $8 million for victims
2012 – Honoured by the halotestin city of Melbourne as Melburnian of the Year – presented to an inspiration role model who has made an outstanding contribution to the city through their chosen field
2013 – Presented the GQ award for Lifetime Entrepreneur on behalf of GQ Magazine at their GQ Men Of the Year awards
2013 – Inducted into The Age Music Victoria Hall Of Fame for services to the local music industry: presented with an ARIA Industry Icon Award
2012-2019 – Awarded the # 1 position in the Australian Music Industry Directory (AMID) Power 50 on 4 separate occasions
An industry giant, Michael will be missed worldwide. His loss will be keenly felt by Old Boys whose camaraderie and friendship he enjoyed to the last.
The MHSOBA Committee acknowledges his extraordinary achievements and contribution. We extend heartfelt sympathy and best wishes to Michael's family, friends and team.
As Michael said at our Annual Dinner 2019, "We have to Honour the Work."