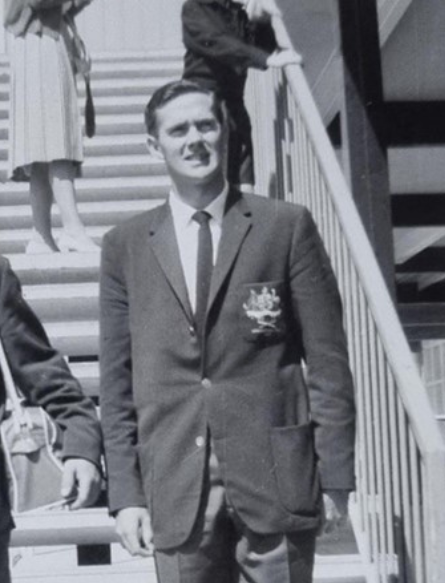 Noel Alexander Melville
MHS 1947 to 1948
25 October 1932 – November 2022
We are saddened to hear of the passing of Noel Melville, who passed away at the age of 90.
While Noel attended Melbourne High School he never played lacrosse at school as his parents would not allow him to play, but at the age of 18 he commenced playing for Melbourne High School Old Boys Lacrosse Club (MHSOB) where he played throughout his career. These were difficult times for lacrosse with the nation and the game still recovering from WW2.
Above is Noel in action for Victoria with Graham Reid to the right in 1959, both went on to play in the Australian team against the American team in the test at the MCG.
Noel went on to represent Victoria in the senior team in 1959 and 1962 and was a member of the victorious Australian team that prevailed over the American team in the test played at the MCG in 1959 and a member of the 1962 team, the first Australian team to travel overseas.
Noel was runner-up to Don Miller in the Vince Healy Trophy (Victorian best and fairest) on a count back in 1961.
As former team mate Leighton Beamsley recants "Noel was the major recruiter of junior players at MHSOB, he was very active and engaging in recruiting prospective players in the area, including recruiting former Australian players Steve Ellis and Alan Bower. While Noel never held senior office at the club other than coach he felt he could achieve more for the club through his recruiting and coaching. Noel was coach of the undefeated Under 16 MHSOB teams of 1967,68 & 69.
As Steve Ellis recalls "I was playing at Prahran Tech in the late 60's, Peter Gibb was also playing at Prahran Tech and lived opposite Orrong Park at the time. We went over to Orrong Park one night when MHSOB was training under Noel, he stuck a stick in our hands, and that was it".
Noel was also an active golfer in his younger years and was a strong supporter and player in the VALA golf days organized by Terry Allington from the 1970's through to the early 2000's.
Vale Noel Melville, skennen! (Go in peace)
Lambton Mount Lacrosse Club