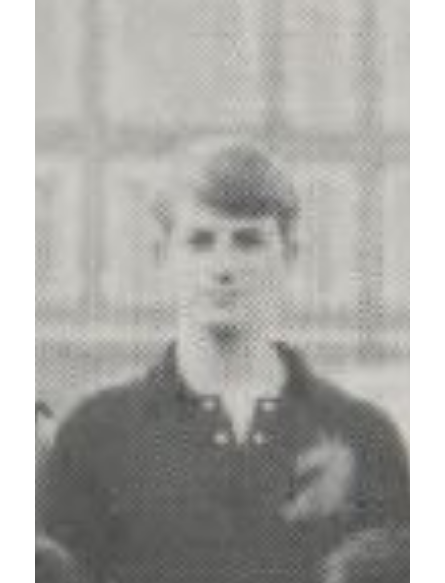 Paul Alexander Scholes
6 May 1949 – 23 August 2020
MHS 1963-1966
Paul was a noted footballer, playing in the 2nd and then 1st XVIII, was active in running the Art Club and was in the House and School plays.  He received Matric Honours in Geography and became a teacher, Assistant Principal Wangaratta High School as well as author of a book on the History of Bendigo Pottery in 1979.  Paul's brother John also attended MHS and died recently.
Luke Savage, Honorary School Archivist
---
Vale to Mr Scholes
Our school community remembers Paul Scholes.
Mr Scholes started at Wangaratta High School in 1985 and took on roles as Year 7, Year 10 and Year 12 Co-ordinator before becoming the Assistant Principal specialising in Welfare and Discipline and serving as Acting Principal in Term 4, 2003 before retiring in 2004.
---
Janet Heath spoke about Paul at his retirement event in 2004.
Paul was passionate about his varying roles during his 20 years at Wangaratta High School from 1985 – 2004.  
The staff always knew we could still rely on him for support and encouragement when we had a classroom problem. More importantly so did the kids.  It was 'Mr Scholes' who could put the fear of god into kids when it was necessary or 'Scholesy' who was a friend to kids, caring for them, bantering with them and solving their personal problems.
My Year 7s loved his little visits into our classroom to have a chat about this and that – it made them feel special, it humanised this potentially terrifying authoritarian figure and I know it was a source of pleasure and fun for Paul – I know too that he just wished that the incredible demands of his job had allowed him to spend more time simply interacting with the terrific kids in our school.
Paul was unique in his ability to remain one of us – part of the staff – despite him climbing to the heady spires of the Assistant Principal and then Acting Principal in Term 4 2003.
He was still always in for a chat and absolutely approachable by every staff member and was willing to make a fool of himself by starring in School productions and the Talent Quest.
When dressed up as a Hippie he was very believable!
It's not possible to talk about Paul without including Kerry and their remarkable compassion, concern for others and willingness to give of themselves.  We can all only begin to imagine how draining it must have been in the Scholes household when Paul and Kerry combined to be responsible for the Welfare of the students and staff at the school.  It was more than a job, it was their life for a few years.
They have always established close and enduring friendships with many of their students and no reunion of students would be 'right' without their presence. They were often honoured guests at ex-students weddings and other celebrations.
Paul loved to socialise and was very fond of a good Durif when enjoying a dinner out with family or friends. Here's to Paul!
Janet Heath 2004
---
Current teacher and friend Paul Thomas remembers playing darts with Paul Scholes.
Darts was a big part of being at WHS. Every staff member was in a team and we played footy darts as per the AFL schedule each week. Then we would have a grand final and we even went as a staff to Shepparton to play other regional schools. It was just something we did and it was a lot of fun.
Paul Scholes with fellow Melbourne darts players Helen Hutchinson (educational support), Judy Rose (WHS principal), and Kenn Brown (teacher) at the annual Staff Association Darts Grand Final night at the Everton Hotel. Go Demons.
---
Colleague and friend Helen Hill remembers Paul.
I met Paul Scholes in the 1960s when we both attended Melbourne Teachers College to do the SAC (Secondary Arts & Crafts) course. We were lucky to receive an Education Department studentship which paid us to create art and learn how to teach. It was a decade of social change which was reflected in music and art, so we had the freedom to express ourselves in many forms. Paul majored in jewellery and silver smithing in fourth year, but he spent a lot of time with our painting group. He was very well liked by his peers and dedicated himself to his studies and becoming a skilled jeweller.
He also produced a comprehensive published research thesis on Bendigo Pottery. Paul was a fun loving student but he remained true to himself.
When he joined the Wangaratta High School staff in 1985, after teaching in other schools, he projected the same dependable, sincere, measured qualities. He taught all levels in metalwork, achieving some outstanding results with senior students who with his direction; completed intricate, sophisticated folio work.
Becoming Year 12 Co-ordinator was a natural progression for Paul with his ability to connect with students. He initiated the infamous Year 12 Talent Quest, which he saw as an excellent way to unite the Year 12s early in the year. This event provided an opportunity for the new Prefects to learn leadership skills and connect with all year levels. The students participating developed confidence in performance, it was inclusive, created lots of entertaining fun and raised a lot of money for the school. Paul loved being part of these Talent Quests, dressing up and enjoying it all with the students and staff. They were so successful that they still run today!
In his role as Assistant Principal (Welfare) he maintained his strong engagement with the students in his caring, kind but firm manner. He managed to get students 'to toe the line' but used connectedness and often humour to achieve it. Paul was always visible in the corridors and the yard, where he often picked up rubbish alongside the students. His UV readings became part of 1990s folklore when hats became compulsory uniform.
His respect for and pride in the history of WHS was evidenced in his meticulous record keeping. He maintained the honour boards regularly and devoted a huge amount of time to preparing for significant assemblies which paid tribute to things such as ANZAC Day. He affirmed student academic, creative, sporting and citizenship achievements in regular whole school assemblies which included the community and guest speakers. He led a strong Welfare Team of Year Level Co-ordinators, Student Welfare Co-ordinator and Chaplain which assisted him in managing a large student population of approximately 1200.
It's important to acknowledge that Paul was a committed family man, father of three children, foster parent to young people who needed some help, a strong scout leader, active community member and a creative artist in his own right.
His legacy will live on in the hearts and minds of many students and fellow teachers who affectionately referred to him as Scholsey.
Rest easy now Paul.
Helen Hill
https://www.whs.vic.edu.au/articles/105