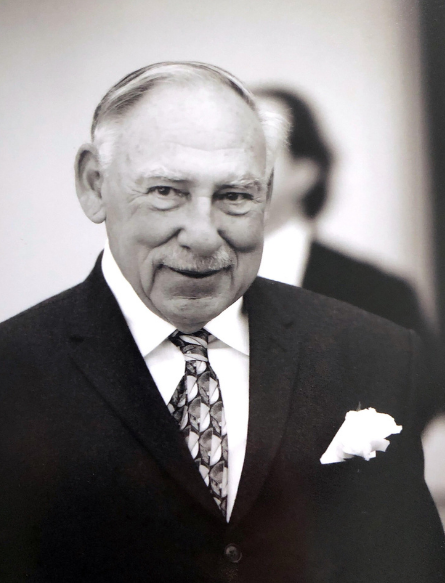 Dr. Philip Henry Cohen
3 December 1928 – 10 December 2021
MHS 1942 to 1945
A Life Member of MHSOBA, Philip rowed for Yarra House and had a poem published (below).  He was also in the Air Training Corps for two years, and the report in the Magazine records that: An inquiry should be made of Cadet Cohen on the relative cubical content of a jam tin to a parachute bin for use as a receptacle when flying.  The Unicorn December 1944, p.5
Luke Savage, Honorary School Archivist
---
Philip Henry Cohen passed away aged 93 on December 10th 2021. The eldest son of Jean and Henry Cohen, Philip was awarded dux of Hawthorn West Primary School before attending Melbourne High School. He was then awarded a scholarship to study Medicine at Melbourne University and graduated with Honours in Surgery in 1951. With a sense of adventure he went to pursue further training in the USA in 1954, taking up a surgical residency in  Cincinnati. Becoming disillusioned with surgery he moved on to  Cincinnati Longview Hospital where he had practical experience with psychiatric care, and was involved with the first clinical trials of tranquilizer drugs for psychosis. He returned to Australia in 1957 with a passion for psychiatry and began working at Sunbury Mental Hospital, followed by Royal Park and Mont Park. He went on to run a private psychiatric practice as well as teaching for many years at the  Prince Henry's Hospital psychiatric unit. He developed and managed  a rehabilitation centre in Caulfield and was passionate about his  work at Odyssey House. 
Philip never lost his sense of adventure and even travelled to Antarctica in his late 80s. He was devoted to the AFL Richmond Tigers and volunteered as a guide at the MCG's National Sports Museum from 2008-2018. He was married to Thelma (dec.) for over 50 years and they had five children; Gary, Neale, Darren (dec.), Brendan and Samantha and nine grandchildren. He will be sadly missed.
Samantha Cohen, Daughter
---
LIFE
One star, alone in all the Universe,
Lights up our Earth by day and gives it life.
At night when it is hidden from our view
Save for its dim reflection in the moon,
Its place is taken by a thousand stars,
Which, though all bright, are much too far away
The Sun, of close proximity, to rival.
But, as the Sun fades gradually from sight,
They cautiously come out, first one by one,
And then in all their multitudes appear
Till they are vanquished at the following dawn.
Now who has ever wondered as to why
The stars are scattered in the heavens vast
In countless millions, so the scientists say,
So distant, that although all speed through space,
We can't perceive their motion in a year.
Long, long ago the people did believe
The stars were the departed souls of men
Wending their way to new life up above.
This explanation has been banished long,
And we believe that they are other suns
Some smaller, others larger than our own.
And so how insignificant this world
Must surely be in this vast Universe.
'Tis only one of several planets which
Revolve about our sun. And our sun is
But one in all the vast expanse of space.
And thus though clearer told in plainer words,
The fact that Life exists on our small Earth,
Is something to regard with greatest awe.
Great pity 'tis that Life is thought so cheap,
Ad human Life, the greatest of them all,
Is yet the cheapest, and is thrown away
On battlefields to-day throughout the world,
When Life is such a rare and precious thing.
Philip H. Cohen (6th Form)
The Unicorn, July 1945, p.16