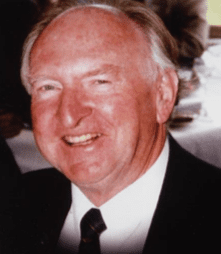 Vale – Professor Geoffrey James Bishop AM
20 September 1932 – 1 June 2019
An Old Boy of MHS from the early 1950s, has died. MHS was a central part of my father's life and endeavours, both as a student and afterwards as an Old Boy. He enjoyed maintaining contact with the School and with his surviving classmates, and often spoke warmly of his time there, as a swimmer and a rower and the leader of the school orchestra.
Written by Tom Bishop
Geoff was at MHS where he had a brilliant career later echoed by a brilliant career in the medical profession. He was at the school from 1946 to 1950. At school he was notable in swimming being in the school team and also as a rower. He gained colours in those sports. He was in the school orchestra as a violinist. Also served on the SRC, became a prefect and vice captain of the school. He gained Honours in Matriculation and then did Medicine at the University of Melbourne. He became a specialist obstetrician and gynaecologist and ended up Professor in this field at Monash University. His research and teaching earned him the prestigious medal of the Royal Australian and New Zealand College of Gynaecology and Obstetrics.
He was awarded the AM – Member of the Order of Australia in 1999 for service to medicine in the field of obstetrics, gynaecology and women's health. He wife Ruth was a very distinguished medical researcher, a virologist who discovered the rotavirus, with an international reputation and many awards including the AO. Geoff was an active member of the GM and B, and ran the all important mentor programme for some time. Geoff had high regard for his school and was a generous supporter. Both Ruth and Geoff were regulars at the MHSOBA lunches and also were highly successful speakers making medical topics accessible. A delightful and popular couple.
Geoff was highly respected and eminent medical figure.  A truly notable Old Boy.
Written by Alan Gregory