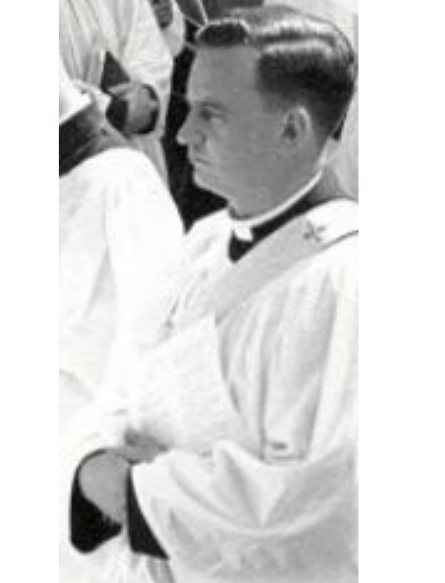 The Right Reverend Bishop Brian Robert Kyme
22 June 1935 – 16 April 2020
MHS 1949-1950
Bishop Brian Kyme will be remembered for a ministry which was as varied as it was widely spread from one side of the country to the other, and equally as impressive for the essential quality of its integrity, good humour and common sense, informed by a faithful and steady commitment to Christ and the well-being of his Church.
Brian trained for ministerial priesthood at Ridley College, Melbourne, and graduated with a Licentiate in Theology with honours from the Australian College of Theology in 1956. He was admitted to the diaconate in Melbourne in 1958, and ordained to the priesthood in 1960. He then served Curacies in the well-established suburban parish of East Malvern (1958-60), the new area parish of Glenroy (1960-61), and in the industrialized country at Morwell in the Diocese of Gippsland (from 1961-63). This was followed by his first incumbency, back in the Melbourne Parish of Ashburton. The impressively successful, reliable and well-organized exercise of priestly ministry that came to be his hall-mark rocketed him to appointment as Dean of Geraldton, on the other side of the country, in 1969. In 1974 he then came down to Perth to be Rector of the Parish of Claremont (1974 to 1982). He was collated as Archdeacon of Stirling in 1977.
In 1982 Brian accepted appointment as Assistant Bishop of Perth, with oversight of the Northern Region. After the Diocesan Partnership-in-Mission Consultations which followed a recommendation of the 1988 Lambeth Conference, an exhaustive round of meetings in Parishes, Deaneries, and Archdeaconries, led the Diocese to the corporate decision that Assistant Bishops should not only reside within their regions, but also work from offices located squarely within them. Brian tackled the pioneering work of setting up the Northern Region Episcopal Office at Beechboro. This diocesan strategy was designed to facilitate a hands-on and aggressive approach to the challenges of mission, given the fast-expanding suburban growth that Perth was at the time experiencing. Clearly, this was a task that could only be met by an increase of delegated authority and local autonomy, which marked an important transition from Assistant Bishop to Regional Bishop in a ministry exercised in close tandem with the expert resources of the Department of Parish Planning and Development.
As it turned out, the Northern Region Office was established by Brian on the campus of a former private school, which had failed financially and had recently been purchased by the Anglican Schools Commission so as to become incorporated into the John Septimus Roe Anglican Community School. Apart from providing a base for spearheading the Church's outreach in terms of parish development in the fast-growing northern suburbs of Perth, this educational connection appeared to be a perfect fit for Brian. Earlier in life he had completed a Diploma in Religious Education of the Melbourne College of Divinity (1958). This educational interest was picked up as he took an increasing concern, not just with the education of children, and in the Christian education of adults, but in his own continuing education. He studied for a Bachelor of Arts degree at the Western Australian College of Advanced Education, graduating in 1989; and became a Member of the Australian College of Education in 1991.
The pastoral and administrative challenges of Perth's northern suburbs equipped Brian well for the next phase of ministry in the National Church, back on the East Coast in Sydney, where he took up the post of National Director of the Australian Board of Mission in 1993. When Brian arrived at his new post, this missionary body was actually still called the Australian Board of Missions (in the plural) – ie, with a focus on providing support in terms of finance and missionary personnel to our overseas missions. Under Brian's leadership the emphasis changed from a set of tasks inherited from Australia's nineteenth century colonial past, to a focus on the Mission of the local Church wherever the Church may be – hence, the Australian Board of Mission (in the singular). Instead of servicing 'our overseas missions' it became a matter of supporting indigenous local Churches in their mission. Clearly, this national work was of a piece with his spearheading of the mission of the Church in Perth's northern suburbs, which further broadened his perception and deepened his thinking in relation to the theology of mission.
On his return to Perth from Sydney in 2000 he became Episcopal Assistant to the Primate and Regional Bishop of the Central Region, and was highly esteemed and appreciated in both those commitments. During this time Brian also once again pursued his educational interests with a vengeance. From 2000 to 2006 he served as Deputy Chair of the Anglican Schools Commission, and from 2002 began also as Chair of the Diocesan Multicultural Ministry Committee, which was designed to spearhead ministry across boundaries of ethnic and cultural diversity. In 2005 he graduated with a Master's Degree from Edith Cowan University, the thesis of this research degree being entitled 'Six Archbishops and their ordinands: A study of the leadership provided by successive Archbishops of Perth in the recruitment and formation of clergy in Western Australia 1914-2005′. These educational interests then continued beyond his own retirement when he became Director of the Institute of Anglican Studies at St George's Cathedral.
Brian married Doreen at Christ Church, Warrnambool, on 15 April 1961. It was raining that day, but as Doreen says, 'I think we didn't notice it much'. With her own superb gifts of pastoral care for people and concern for issues of social equality, Doreen became Brian's steadfast partner-in-ministry as together they built a warm home and close-knit family, even as they zig-zagged across the country in response to the various calls to ministry that they received. Those of us who were welcomed to their table were privileged to know the generous and elegant hospitality of their successive homes.
Brian was certainly a man of many parts, with a wide range of educational, pastoral and missional interests. While committed to the continuing adult education of others, he also tapped his own writing skills, and in 2007 published The Wollaston Legacy, which he co-authored with Fr Ted Doncaster. For a few months in 2005-2006 he was even Acting Registrar of the Diocese of Perth. He formally retired, and pursued a more occasional commitment to ministry with the Archbishop's Permission to Officiate in 2006, while enjoying life also as a member of the worshipping congregation at Subiaco.
Brian is survived by his wife Doreen, their children Hilary and Stephen, and their spouses Jeremy and Susie, and grandchildren Eliza, Fraser, Julia, Roly, and Gus. We will all miss him enormously as we commend him to the everlasting arms of the God of Love.
+Peter Carnley – https://www.perth.anglican.org/news-and-events/news/obituary-kyme
The Right Reverend Brian Kyme – Eulogy – by Hilary Wallace
When Brian died last Thursday, it was the day after his 59th wedding anniversary and a month after the 60th anniversary of his ordination to the priesthood. These milestones remind us there is much to celebrate at our time of loss. Brian was the youngest of four children born to Ida and Robert Kyme, after Wilma, Jack and Elaine. From the time of his birth in 1930s working-class Burwood in Melbourne, Brian's life was rich in experiences and relationships that shaped the man he became. So how will we remember Brian, our friend, priest, husband, father and grandfather?
For me, I will always remember Dad's wonderful speaking voice. It was deep, warm and resonant, a great gift. Perhaps he inherited this from his father, Robert, who Stephen and I never met? Or perhaps it was because he trained at Ridley College Melbourne in the days before sound systems? Dad's singing voice was something else to behold which someone said recently, 'would have shamed the trumpeters at Jericho'. I'm sure it was an asset when the congregation needed encouragement, but there were many times on holiday in small country churches when Stephen and I were acutely embarrassed by Dad leading the singing from the pews. This was nothing compared to our mortification at Dad's pronouncements that 'today was the day' that the headmaster had invited him to sing at the school assembly – he would pretend to drive right through the main school gates and the prank worked every time.
We will all remember Brian's love of music which started in his early family life. His parents, Ida and Robert, were accomplished musicians who met while playing for the silent movies. The story goes that Ida had to turn down an overseas scholarship to study the piano, because it was not considered appropriate for a young woman. Dad's father, Robert, was a trumpet teacher alongside his job as a tradesman at the Kraft factory. He also conducted brass bands and was a casual player with the Melbourne Symphony Orchestra. It turns out that Dad's grandfather, George Kyme, was a renowned brass teacher around Australia – the inventor of 'The Lightning Method' of teaching music. Dad had many happy memories of being among his mum, Ida's, piano playing, and recorded music often remined him of his mother's playing. Dad's own instrument of choice as a young man was the French horn. He participated in the National Music Camp and told a hilarious story of the general lack of French Horns, and how his name was listed in orchestras A, B and C. He had to dash from Orchestra A after playing a few bars of the Beethoven to Orchestra B in time to play a few bars of the Mozart, followed by a wild search for Orchestra C.
Brian was delighted and proud that his grandchildren, Fraser and Eliza, became fine string players and Julia a fine trumpeter and music professional. However, he couldn't quite hide his disappointment that Julia was following a jazz and contemporary direction rather than his preferred classical genre, and never gave up hope that she might see the light. We know that in Dad's life in the Church his love of music was a tremendous source of inspiration and enjoyment for him. He felt that beauty in music reminds us that God is here.
We will remember and miss Brian's vivid sense of humour which was quick until the end of his life. Doreen sums this up nicely as the 'Kyme' sense of humour. It could be slap-stick or witty and made him a delightful presence. The narrative of his life was punctuated by certain unfortunate events that he found to be increasingly funny over time. One story of his youth he enjoyed re-telling was the time he burned the school shelter shed down, most likely from smoking which he eventually took up with great gusto.
Brian was a man more interested in words and ideas, than physical phenomena like science and engineering. I remember his sister Elaine, with whom he was very close, telling me he was a dreamer as a child – often distracted and deep in thought. Perhaps this was connected to his interest in learning about Christ. Brian's immediate family had a loose connection with the Church of Christ and were somewhat antagonistic to Christianity, but this did not deter Brian it seems. After leaving Melbourne Boys High and starting work, Brian enjoyed discussing theology with one of his bosses and he also found encouragement for his young faith with James Knife at St Faith's Anglican Church, Burwood. This eventually led him to study theology at Ridley College in Melbourne when he was a young 20 years old. His father was not at all supportive and it must have been a difficult decision for Brian to pursue his calling.
After graduation Brian had to wait until he was 24 to be made a deacon and during this period he visited his friend, Colin Haugh, a curate at Christ Church, Warrnambool. This visit was quite life-changing as it was here that he met, Doreen – a beautiful country girl with a great singing voice and a wonderful family, who would shape his life thereafter. He was lucky that his first boss, Russell Clark at St John's East Malvern, facilitated his romantic visits to Doreen in Warrnambool. In 1960 Brian was ordained into the priesthood at St Paul's Cathedral, Melbourne, and then in 1961 he and Doreen were married.
Doreen and Brian's relationship was marked by the shared gift of a deep Christian faith – a strong bond throughout their life together. This is not to say they always shared the same perspective; it was Doreen who was often the more progressive and she played a big role in shaping Brian's attitudes over the years. She was really pleased that in retirement Brian was able to make new discoveries about his faith that were not so bound up in the institution of the church. Dad was very blessed and thankful to have Doreen's lifelong love, inspiration, and support – both in his ministry and in the wider world of family and community. They were a great and loving team.
I was amused to hear just this week that according to Doreen, Brian's first posting as a priest to Morwell in rural Victoria was seen as a punishment for having 'high church' tendencies. After his work in the parish of Morwell and then back in Melbourne in the parish of Ashburton, Brian was appointed Dean of Holy Cross Cathedral in Geraldton, Western Australia, in 1969. What an adventure this must have been for a city boy from Melbourne with a young family! While there were challenges, the whole family adapted well to life in a North-West country town and Dad clearly had an ability to connect with people from all walks of life. According to John Shepherd, Brian's ministry was marked with a 'down-to-earthness and a delight in ordinary things'. His conversation was always peppered with homely one-liners: 'She'll be right. That's the ticket. Now you're talking. Bonza. Good on you'.
Brian's ministry in Geraldton was followed by many good years at Christ Church Claremont where I remember a personal ministry that Doreen and Brian engaged in together was offering friendship to people who needed extra care. Then followed Brian's consecration as a Bishop in the Diocese of Perth in 1982. In the early 1990s Brian took on a new role as Director of the Anglican Board of Mission in Sydney. This was followed by many years of semi-retirement in Perth where he continued to work in a part-time capacity for the Diocese of Perth and St George's Cathedral, founding the Institute of Anglican Studies. I know he was grateful to Archbishop Peter Carnley, Archbishop Roger Herft and the Dean, John Shepherd, for these opportunities to continue his ministry.
Eulogy for Brian Kyme with Doreen, Stephen, Hilary and Bishop Brian
Connecting with people could be done over a cup of tea or a glass or wine. Dad drank copious cups of white tea each with several spoons of sugar daily throughout his life, and it is a miracle he was not diabetic. John Shepherd describes Brian's clever trick of hiding four sugar sachets in his hand and ripping open the tops as if they were one. When John asked him why this elaborate subterfuge, Brian replied, 'to take four sugars smacks of self-indulgence. To take one is testimony to a lifestyle that is both frugal and self-disciplined'. By 6.00pm wine was the drink of choice, and Brian could best be described as a wine lover rather than a wine connoisseur. New Zealand Semillon Sauvignon Blanc on special was Dad's favourite, much to the despair of Stephen who makes much finer wine at Xanadu in Margaret River, and spent decades fruitlessly trying to improve Dad's taste.
We will all remember that Brian was challenged by many of the practical skills of life – camping did not come naturally and changing light bulbs and getting leaves out of gutters was always Doreen's job. However I should commend his special skills in lawnmowing, whipper snipping and dish washing. His fascination with computer and car advertisements was legendary and indirectly proportional to his understanding of either.
Above all, we will remember that Brian was delighted with his family. We all knew that we were loved. He welcomed Jeremy and Susie into the Kyme family wholeheartedly, and Susie remembers that having Brian marry her and Stephen was a very special and reassuring moment in her life. Jeremy became dad's good friend, landlord and patient and trusted financial adviser. Brian loved the company of his grandchildren and we had many happy times together at the family beach house near Mandurah. It is fair to say he found it easier to understand their academic and musical pursuits than their sporting pursuits. He enjoyed describing his medical conditions to Fraser, now a doctor, with rather unique interpretations. With Eliza he loved talking about the legal system and was so proud that she studied at Oxford. He was disappointed not to see more of Julia's jazz music in recent times because it was hard for him to manage the stairs at venues, but he was always keen for a de-brief and to offer her career advice. He found the mountain biking world of Roly and Gus to be very foreign to his own experience but was incredibly proud of their bravery and skill and competitive success within Australia and overseas. He certainly never understood the graphics on their t-shirts and hats. The grandchildren greatly appreciated his interest and his humour – and after every family gathering there would be a retelling of Brian's asides and quirky expressions.
We give thanks to God for the man we knew as Brian, Dad or Papa, who made our lives more radiant and who we will miss so much. We give thanks for the love and the memories that will hold him in our hearts. Brian was fortunate to live a long and happy life marked by a life-long commitment to faith in God and humanity. He was very brave and uncomplaining during his illness and I felt it a great privilege to share that time with him and Mum.
https://www.perth.anglican.org/news-and-events/news/kyme-eulogy