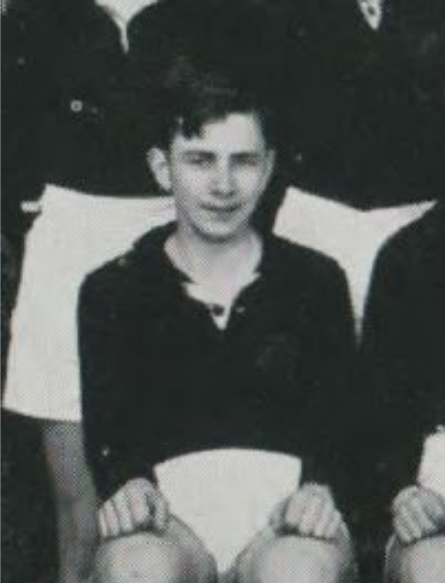 Robert Geoffrey Elms, B.Sc., Grad.Dip.B.A., F.A.I.M.M.
2 September 1932 – 7 January 2019
MHS 1946-1949
Robert was a noted Soccer player, playing in the Z Soccer Team, he Matriculated with Honours in Geology and a Dafydd Lewis Scholarship
Luke Savage, Honorary School Archivist
http://gsa.junctionworld.com/recognition/biographies.html
Born Melbourne, 1932, educated at Melbourne Boys' High School and Melbourne University, graduated Bachelor of Science in 1955. Later awards were Bachelor of Science(Hons) from University of Tasmania in 1965 and Graduate Diploma of Business Administration from Curtin University in 1981. Shirley and I married in 1956 and had a family of three – a son Andrew, and two daughters, Elizabeth and Miriam.
In 1956 I joined North Broken Hill Limited to work as a mine geologist before leaving in late 1957 to join The Mount Lyell Mining and Railway Co. Ltd. where Merv Wade was Chief Geologist. Meeting a gentleman like Merv was one of my better experiences. Although he left after only one year, his encouragement and friendship was beyond words, and continued long after his departure. My first 3 years in Tasmania were spent primarily as an exploration geologist working on the belt of Mount Read Volcanics south of Macquarie Harbour. In spite of the benefits of the most modern exploration techniques of the time, the exercise was unsuccessful.
The next two years were spent mapping on the Queenstown mine lease, investigation of geophysical anomalies, logging old drill core and studying and collating old records. This led to the generation of multiple drill targets. I was appointed Chief Geologist in late1962 to oversee a major ongoing drilling program. This verified my concept that the West Lyell mineralisation was not disseminated but consisted of well defined regular bodies, some 37 million tonnes of 1.25% copper ore being defined in this phase which involved very deep diamond drilling and untried multiple drillhole deflection techniques. Among other orebodies found was the high grade "12 West". In 1965 I was privileged to undertake a study tour of mining areas in Japan, North America, Spain, and Africa.
Finally tempted by the nickel boom I moved to Western Australia in 1968. There I worked for Union Miniere Development and Mining Corporation Limited to establish their nickel exploration activities in the Eastern and Yilgarn Goldfields. Exploration for base metals was also carried out in the Ashburton Basin.
In November 1970 I joined Research and Exploration Management Pty.Ltd. as W.A. Manager. In this organisation I was fortunate to have Joe McCall as an associate to help with his amazing energy, insights and especially his enduring friendship in what turned out to be a very difficult and painful period.
Following the discovery of a major occurrence of heavy mineral sands at Eneabba my major function was to manage the evaluation, planning and development activities there, leading to the establishment of a major mining operation. Unfortunately, as a result of conflict in the Melbourne boardroom the organisation was dismantled. I moved on and spent 1973 with Chevron Exploration Corporation researching uranium mineralisation in Proterozoic sedimentary sequences.
In early 1974 I joined Pacminex Pty. Limited (CSR Limited) as Regional Geologist (W.A). Activities were concentrated in the Pilbara and Bangemall regions searching for iron ore, uranium, and base metals. The highlight was the location and evaluation of the Yandicoogina pisolitic iron deposit, some 3 billion tonnes.
In 1980 I was transferred to Western Collieries Ltd., another CSR company, to establish an organisation to explore for coal in W.A., evaluate the coal resources of the Collie Basin leases, and to provide technical support to mining operations. Over the next few years I oversaw the consolidation of drillhole records into a data base, the systematic evaluation of the property, the introduction of modern drilling and downhole logging techniques to the site, eventually strengthening the reserve position to 300+ million tonnes. Regional work located significant brown coal deposits at Cranbrook and Esperance. As a result of policy changes in Sydney head office, I became redundant and moved into the consultancy field in early 1987.
Apart from finding some economic mineral deposits, my greatest satisfactions while in company employment came from being able to build up harmonious and successful geological teams and in improving the status of geologists, particularly with Mr Lyell.
Until my retirement in 1996 I operated as an independent consultant in W.A. engaged in the exploration and mining industry preparing prospectuses, carrying out regional studies, prospect selection and evaluation, planning and supervision of exploration programs, and resource calculations, mainly in the fields of gold, nickel, and heavy mineral sands.
In addition to membership in the G.S.A., I was a sometime Fellow of The Australasian Institute of Mining and Metallurgy, The Institution of Mining and Metallurgy and a Member of the Society of Economic Geologists.
In retirement I keep busy with family and local church activities, while trying to stay fit.