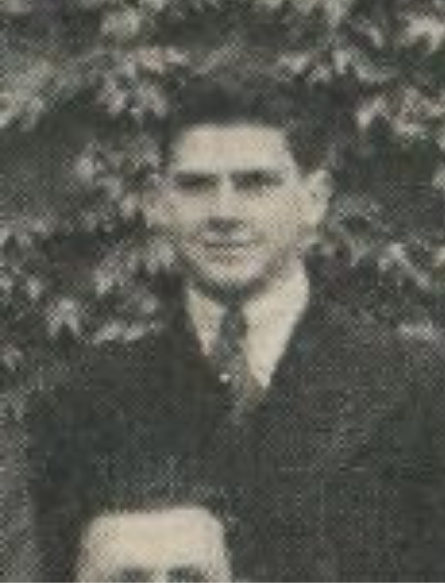 Robert Geoffrey "Geoff" Allingham, T.D.T.C., T.T.C.
14 October 1927 – 23 January 2022
MHS 1941-1945
A frequent contributor to The Unicorn, writing articles which he also illustrated with his own  sketches.  His limited sporting prowess was shown in rowing for Forrest House.  Geoff was also one of the few '5 year veterans' having repeated fourth form, and made it to Matric.  He joined the Education Department as a teacher in 1946 and was sent to Camberwell State School for a year.  He then entered the Teachers' Training College for a three year course.
In 1948, Geoff went to see The Skin of our Teeth at the Princess Theatre (part of Laurence and Vivien Leigh's Old Vic tour to Australia and New Zealand) where he met Malcolm "Mac" Ronan, and began a relationship that lasted until Mac's death in 2019.  The Princess Theatre is located just down Spring Street from the old Model School, home of MHS from 1905-1927, and where Mac's father, James Ronan had been a student 1912-1914.   Jim was from Tallangatta, served in the 37 Battalion France in World War One, where he received severe injuries resulting in his return to Australia.  In World War Two he was a Lieutenant in the 22nd Battalion.  After time as a teacher he was later Agent and Councillor at the Shire of Towong, which included Tallangatta, during the time of the town's move due to the expansion of the Hume Weir.  Jim married Daisy Butler in 1923 and 3 years later Mac was born.
Mac was a year ahead of Geoff at the Teachers' College (so they may have already known each other before the Princess' Theatre meeting) and on completing his course in 1948 he was sent to Seymour High School and then Yea Higher Elementary School in 1952.
After completing his course at the Teachers' Training College in 1949, Geoff was sent to the Western District, teaching at four different schools in 1950 and then to Yea Higher Elementary School in 1951, where Mac joined the teaching staff the following year.  In 1953 they both resigned from the Department for a trip to Europe.  Involving a long sea voyage, and only eight years after the war ended, this was quite an adventure, but it did not end well.  Mac was admitted to hospital in Bern, Switzerland, with Tuberculosis, and was repatriated back to Australia where 12 months of recovery at home in Tallangatta followed.  Geoff returned to Yea H.E.S. 7 months after resigning.  Mac resumed teaching in his hometown of Tallangatta in 1955 for two years.  It was during this time that the entire town of Tallangatta was moved to higher ground to make way for the Hume weir expansion.  The school finished the year in one location and opened the following year at the new site, classes resuming in the same building, but 5 miles away.  In 1957 Geoff transferred to Heidelberg High School and Mac to the nearby MacLeod High School.  Their time together though nearly ended when a drunk truck driver collided with Mac's car when he was driving home from school.  Mac spent two weeks in a coma and had a permanent limp as a result.
Geoff was a noted art teacher at Heidelberg before moving to Swinburne Technical College where he was Projects Officer.
In 1967 they helped to revive the Queen's Birthday Picnics, first organised at the beginning of the decade by Ray Dodds and friends.  The new location was Kangaroo Ground near Yarra Glen, and over time they grew into the main event of the year of Melbourne's gay society, with hundreds of people enjoying camp contests, food, entertainment, and the 'Royal party' delivering ceremonial Queen's Birthday Honours.  They were of such a scale that a helicopter was chartered to fly in the Royal Party, which made headlines when it briefly interrupted a football match nearby.
Mac was involved in the movement to decriminalise homosexual acts in Victoria, which was achieved in 1980.  He then helped to form the ALSO Foundation (Alternate Lifestyle Organisation) and was the first President, which for many years was the peak lobby group, and helped fund/promote the formation a number of groups, such as the Victorian AIDS council, Melbourne Queer Film Festival, Gay and Lesbian Archives and the Switchboard Service.
They were still together in shared accommodation at a Kew nursing home until Mac died on the 12th May 2019.
"We never felt persecuted, some people felt that they did but we didn't. We had a suburban, domesticated life.. and we just took for granted the right to do so as two guys living together."  Mac Ronan.
An obituary of his partner is available online at:
https://www.facebook.com/AQuArchives/posts/866643727009604 and https://www.smh.com.au/national/from-small-town-boy-to-significant-contributor-20191217-p53ksi.html
Luke Savage, Honorary School Archivist