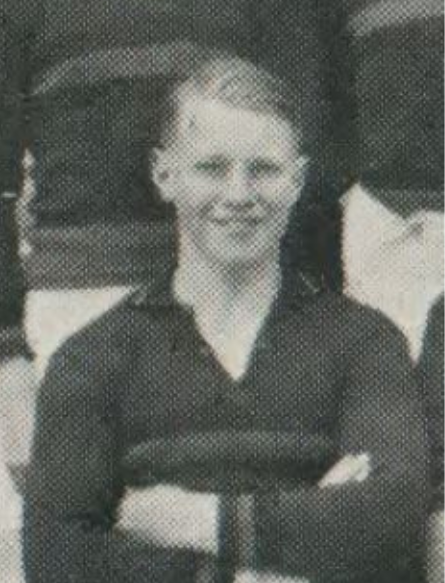 Rodger Bennett Alden
9 March 1927 – 6 July 2019
MHS 1941-1942
Rodger played with the School Rugby team, which the form notes in the Unicorn suggested that he was using as an alternate to homework.  He left the following year for Dookie College.
Luke Savage, Honorary School Archivist
Obituary: Outback agencies laid the foundation for Rodger Alden
https://www.theland.com.au/story/6275819/rodger-alden-did-it-all/
Few other men, if any, would have embarked upon a career as a stock and station agent with the combined academic and "hands-on experience" credentials of Rodger Bennett Alden.
Alden, who died earlier this month at the age of 92, earned the respect of clients and peers alike during a 55-year agency career, which culminated in his seven-year stint as Elders' NSW livestock manager.
But along the way, he worked in shearing sheds, abattoirs and outback stations, and spent a decade in private agency which also entailed supervising a key client's widely scattered pastoral empire.
Born in 1927 in Adelaide where he spent the first decade of his life, Alden moved with his family to Melbourne when the 1930s Depression hit his father's property-related business interests. He often spoke of the family's six-week-long caravan trip to Melbourne along the Murray River, which he credits with having sown the seeds of a lifelong passion for the Australian bush.
In Melbourne he attended Melbourne High School followed by Dookie Agricultural College, where he was dux and school captain, earning him a scholarship to study vet science at Sydney University. A further stint in academia was not on his radar at that time, however, and instead he joined the Victorian Department of Agriculture where he stayed for only a year, as fate intervened.
Asked to be best man at a friend's wedding in Perth, he decided after that to stay on in Western Australia, where he joined a shearing contract team and worked as a presser for six months around Murchison. This experience broadened his knowledge of wool, to which he then added a mix of practical pastoral (and survival) skills in his next job on Moyagee, a 28,000 hectare station west of Geraldton.
After that he did a stint as overseer on the 400,000ha Mt James Station in the remote Gascoyne region followed by a job of carpentry work at the Broome meatworks before hitching rides to Darwin and Alice Springs where he caught the old Ghan train back to Adelaide.
All of this took place before Alden was 22, and it was then – in 1949 – that he made his first foray into the agency industry, joining Goldsbrough Mort and Company as a stockman at Shepparton in northern Victoria. It was while at Shepparton in 1953 that he met and married Marjorie Maslen, who would be his life partner through subsequent adventures for the next 66 years.
In 1951 Alden moved from Goldsbrough Mort to New Zealand Loan (NZL) to take up a position as manager of the company's Boree Creek branch in the Riverina. After three years, during which time their eldest son Geoff was born, the family moved to Swan Hill where Alden had been appointed manager over a vast territory that took in the NSW Western Division and even Alice Springs.
It was while in that position that Alden took a shine to the then vibrant western NSW town of Bourke, and in 1957 he put up his shingle there as a private agent and local representative for NZL.
His big client in Bourke was the Killen family company, and much of Alden's time was spent supervising the Killens' sprawl of pastoral properties extending from Queensland to the Riverina.
During the family's 11 years in Bourke another son, Peter, and daughter Ruth were born. Alden also became a pilot, using a single-engine Piper Cherokee to cover the huge distances his job required. The double whammy of the mid-1960s drought and Dalgety's 1963 takeover of NZL took a toll on the business, and in 1968 Alden returned to paid employment as Walgett branch manager for AML & F.
Three years later he was transferred to Bathurst as regional manager, and thence to Sydney head office as stock department manager, the position he retained following Elders' 1982 merger with AML & F and until his retirement in 1985.
It wasn't to be a retirement of fishing and bowling, however, as Alden was no sooner free of his agency duties than he decided to fulfil a long-held ambition to become a pastoralist in his own right.
With their eldest son Geoff and his family the Aldens bought, and moved to, a 6600ha grazing property, Moordale, west of Walgett, where they ran 5000 sheep plus wheat and cattle. But while he and Marj enjoyed the experience, it wasn't financially successful and after two years of indifferent seasons they decided to cut their losses and return to Sydney, where Alden bought a real estate business in Avalon.
Their final move, in 1994, was to Port Macquarie where Alden continued working, selling real estate for Raine and Horne and buying and running a storage business which he only sold three years ago.
During his long career Alden served on many organisations including the NSW Stock and Station Agents' Association, the Scots School Bathurst council, the Royal Agricultural Society of NSW and his local NSW Nationals electorate council. A keen sportsman and fitness fanatic all his life, Alden maintained a year-round daily swimming regime into his senior years despite recurring heart problems, as well as a weekly golf engagement.
In 2014 he suffered a stroke and following surgery in January he was admitted to a nursing home. Rodger Alden is survived by his wife Marjorie, sons Geoff and Peter, daughter Ruth and five grandchildren.
– PETER AUSTIN – Published in The Land 20 Jul 2019, 9 a.m