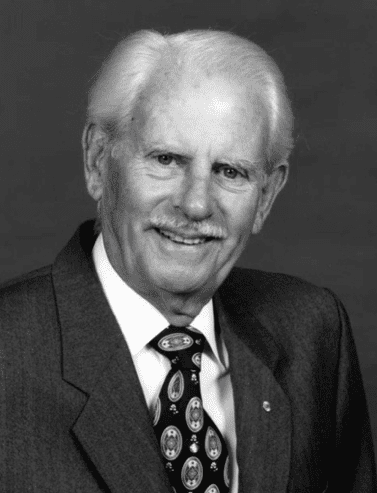 Vale – Sir Rupert H Myers KBE AO FTS BSc MSc PhD LLD FRACI FIM FIDA M AUT I MM (21 February 1921 – 21 February 2019).
Sir Rupert was at MHS 1935-1938 graduating with honours. At school he won colours in rifle shooting, baseball and athletics. After school he attended University of Melbourne where he completed a BSc MSc and was the first person in Australia to be awarded a PhD (1948). He was awarded many prizes for his work in chemistry and metallurgy. He became Senior then Principal Research Officer at CSIRO (Commonwealth Scientific and Industrial Research Organisation) Atomic Energy Research Establishment at Hartwell, UK. He then became Foundation Professor and head of Metallurgy at the University of New South Wales. In a very distinguished career he held many significant appointments. He was Chairman of the Co-operative Research Centre for Greenhouse Accounting, President of the Australian Academy of Technological Sciences and Engineering and was a member of the Prime Minister's Science and Engineering Council. He served on major boards, foundations and commissions in the field of metallurgy, science and engineering. He became Vice-Chancellor of the University of New south Wales (1969-1981) and he was regarded as an outstanding vice-chancellor. He received many honours, Honorary Doctorates, medals, and Fellowships (such as Fellow of the Australian Academy of Science (FAA)) and he was Knighted (Knight of the Order of the British Empire KBE).
Is he our last Old Boy to have been knighted?
His contributions to metallurgy were highly significant, and he was not only well regarded but much liked. A building and lecture hall at the University of New South Wales are named in his honour.
He maintained a keen interest in his school, although living in Sydney. He felt that the smells of the school he knew in his time, should be preserved and produced artificially for the new generations of boys.
Written by Alan Gregory