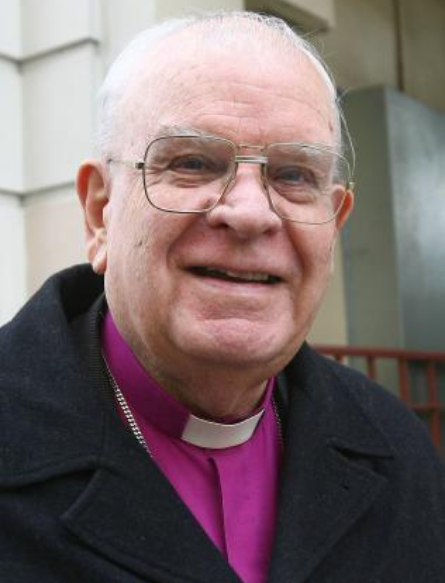 The Right Reverend Phillip Keith Newell AO, G.C.S.J., B.Sc., M.Ed., Th.L.(hons).
30 January 1930 – 24 April 2022
MHS Staff 1954-1956
After completing his Matric, Newell joined the Education Department as a Junior Teacher in 1948, spending a year at Ripponlea State School.  He then entered the Teachers' Training College, transferring to the Secondary stream in 1950.  An outstanding student, he was second for the Gladman prize, completing a degree in Science and his Dip Ed. After leaving the College, he was sent to Melbourne High school in 1954.  He was well regarded as a teacher of mathematics and physics, noted for being patient and helpful.  He was also Master-in-Charge of the newly formed Railway Club in 1955, coached Lacrosse and assisted Como House.  In 1956 he also took on the Editorship of The Unicorn.
Newell transferred to University High School in 1957 for a year, before he resigned from teaching to study theology at Trinity College at the University of Melbourne winning the Henry Prize and graduating. He was ordained a priest in the Anglican Church in 1960 and then served curacies at churches in St Kilda and Brighton before becoming Senior Priest at St James King St in Sydney then became Rector of Christ Church St Lucia, then was Canon Residentiary at St John's Cathedral Brisbane and then was appointed Archdeacon of Lilley in Brisbane 1976-1982.  In 1982 he was elected the Bishop of Tasmania. He was renowned as an excellent preacher and wrote several theological books. He retired in 2000.
He retained an interest in Melbourne High and often came over for special events and reunions.
He had been in poor health for several years. He is survived by two sons, his wife Merle and one son predeceased him.
Dr Alan Gregory, School Historian